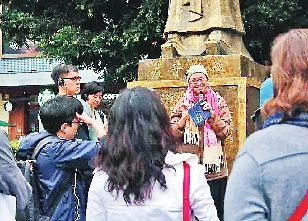 Sally Wang
sallywlwang@hotmail.com
"I AM a new Shenzhener, and it is such a wonderful experience that I was led by an American to check out the history of my town," said a participant in her online blog published on www.toutiao.com, after she took part in a weekend cultural tour in late March, led by Mary Ann O'Donnell, an American anthropologist who has been based in Shenzhen since the 1990s and is dearly nicknamed "Lao Ma" by her Chinese friends.
The Shuiwei tour, organized by Handshake 302, a nonprofit public art organization, and sponsored by Shenzhen Futian Youth League and One Foundation, was one of a series of bilingual tours entitled Urban Flesh and Bones that will take visitors to a total of seven places with cultural and historical significance in Shenzhen. "Join us for an afternoon of rediscovering the city we all love," said the slogan on the tour pamphlet for Shuiwei.
Hop onto the city metro, transfer to Line 4 or 7, get off at Fumin Station, walk a few steps, and you will soon get a glimpse of the bronze statue of Zhuangzi, or Zhuang Zhou, the ancient Chinese philosopher who lived around the 4th century B.C. during the Warring States Period (475-221 B.C.), famous for his Taoism works as well as his dream of turning into a butterfly, or rather, a butterfly turning into himself.
"This is the heart of Shuiwei," said O'Donnell. "All the statues and water are continuing to shape the village identity. While the Zhuangzi statue is linking them to northern Chinese culture, we also keep getting these signs of water, which is a symbol of fortune, and also a symbol of a southern Chinese identity."
The Shuiwei Zhuangs made a living fishing and producing sea salt and became one of the groups that formed Shenzhen's original inhabitants, speaking a dialect called Weitou that is used among the original inhabitants of Luohu and Futian districts and the New Territories of Hong Kong. Now the village boasts more than 700 offsprings of Zhuangzi.
"What's important is not what did or did not happen, but how the stories we tell become history, and how we use the history to shape our identities," said O'Donnell.
Along the years, water has allowed the villagers to make a living, but its practical influence gradually receded as the village went through land reclamation, village renovation and industrialization.
Around the 1980s, villagers traveled to and from Hong Kong by boat to buy daily necessities or odd commodities there and resell them in Shenzhen. It is said that about 100 villagers were once organized to do the parallel trading by scavenging for second-hand items in Hong Kong and then trading them in Shenzhen to earn money.
In the meantime, village renovation and industrialization transformed Shuiwei into a landlocked region. The city government annexed a large chunk of its land, including the land that is bordering on Shenzhen River, for 1.2 million yuan (US$178,000), according to O'Donnell's introduction on the pamphlet. What used to be fish ponds and rice paddies were reclaimed.
The village soon shifted its livelihood from fishing and agriculture to manufacturing and real estate. Factories that specialized in processing and manufacturing imported material were flourishing. Springing up like mushrooms were hand-shake buildings or kissing buildings.
Now that the Shuiwei administrative village has undergone several major facelifts, the now-landlocked community has become a habitable neighborhood with a touch of Hong Kong flavor.
The cultural meaning of water continues to exist, but in more of an ornamental sense, noted O'Donnell as she led us through the village scenery that bears strong southern China style, featuring waterfalls, pavilions and even a small bridge over a flowing stream.
The rock museum in the village, which exhibits hundreds of precious rocks and stones collected from all over the world, also exemplifies the transition from "water" to "land" in Shuiwei's cultural geography, according to O'Donnell.
Luckily for us, O'Donnell and her colleagues will continue to lead visitors to explore places of historical importance in the city monthly, withHuaqiangbei, Civic Center, Shajing and Dalang coming up between April and July. Signing up for the tour is free, and the WeChat account is 握手302 (woshou302).