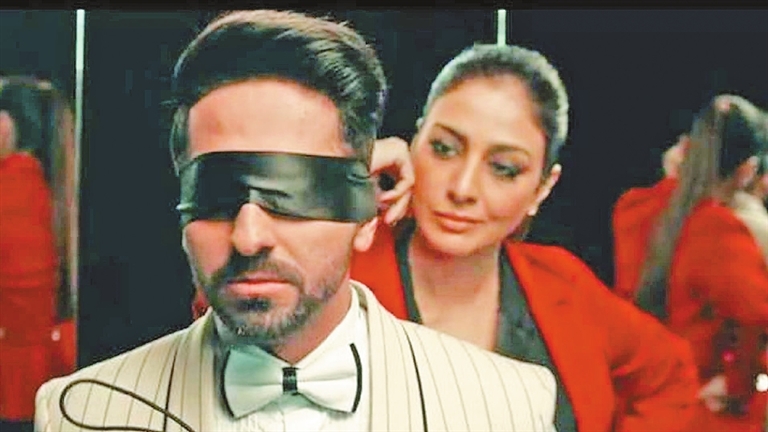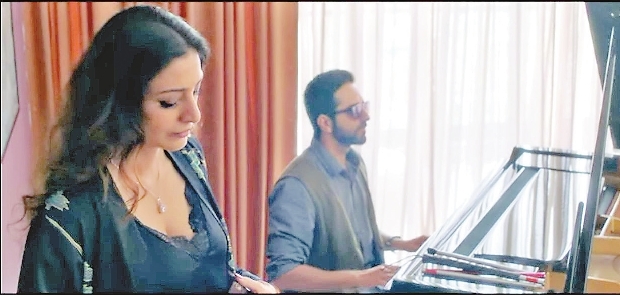 Starring: Tabu, Ayushmann Khurrana, Radhika Apte, Anil Dhawan, Manav Vij, Zakir Hussain, Ashwini Kalsekar Director: Sriram Raghavan
BOLLYWOOD doesn't do thrillers well. About the only exception to this rule is one man: Sriram Raghavan. His latest, "Andhadhun," based on a French short story, is a glorious keep-'em-guessing thriller, which never loses sight of that most important question: so what happens next?
Part of the joy of a good thriller is being let loose amongst a bunch of people who say one thing, do another, and mean something else entirely.
Almost everyone in this enterprise fits this bill perfectly: the blind pianist Aakash (Ayushmann Khurrana) in search of a perfect "dhun," the yesteryear-star Pramod Sinha (Anil Dhawan) married to the foxy, bored Simi (Tabu), a burly cop who specializes in being in the wrong place at the wrong time (Manav Vij), a doctor (Zakir Hussain) who promises to do good but has other designs. There's even a little kid who's quite a crook. No one is innocent.
This is the familiar Raghavan palette: no blacks or whites, only varied shades of grey. About the only what-you-see-is-what-you-get character is the pretty young thing (Radhika Apte) who is as intrigued by the vision-less musician as we are, but her straight-laced character has to work hard for us to keep paying attention to her.
A murder is committed. Raghavan doesn't hide the killer from us; nor the motive. What he does, most ingeniously, is to insert an unexpected character into the situation, and have things unravel from there on. The body count goes up, and the game is on.
The film flags, just for a little while, post-interval and things become a tad heavy-handed and dull. When characters start explaining too much, you start losing interest: this is a problem that pops up quite often in Raghavan's films.
But soon enough, Andhadhun is zippily back on track. Who is next on the chopping block? Who will survive?
The performances are uniformly solid. Dhawan's presence lends heft to the proceedings: just the fact of a yesteryear star playing a yesteryear star makes you smile.
Raghavan's love of Hindi movies of the 70s, and of pulp, is evident here again, just as it was in "Johnny Gaddar." The songs have a reason to be there, as does a protagonist who sings while playing the piano — a scene straight out of scores of films down the decades.
"Andhadhun" is racy, pacy and appropriately pulpy: alert viewers may twig on to the big reveal, but the thrills and chills are right where they should be in this blind man's buff. It also dexterously drops some primal issues in our lap: can those without sight, "see?" What is right, what, if anything, is wrong? How important is fate? Does everyone deserve a life? Or is it all about just desserts?
The movie is currently being screened in Shenzhen.
(SD-Agencies)