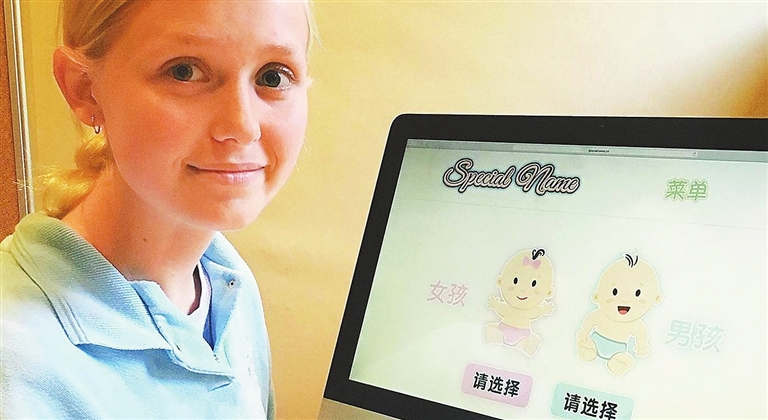 Beau Jessup is just like any other British teenager, except for one thing — she's making hundreds of thousands of dollars and funding her way through college by naming Chinese babies.
The 19-year-old has made a name for herself as founder and CEO of Special Name, a website designed to provide Chinese parents with culturally appropriate English names for their babies.
Jessup was inspired to start the business in 2015, when she was just 15. Six months later, she had made more than US$60,000 naming 200,000 babies. Since then, she has named a total of 677,900 (and counting) and racked up estimated revenues of over US$400,000.
But the whole thing was the result of a "chance encounter," the young entrepreneur told CNBC.
A total name changer
At the time, Jessup was traveling with her father in China, when one of his business associates, a Mrs. Wang, asked for help in naming her 3-year-old daughter.
"I was honored and surprised," said Jessup. "It seemed like a really important thing to do."
Wanting to choose an "appropriate" name, Jessup asked Wang to share a little more about her hopes for her daughter. Most of all, said Wang, she wanted people to be surprised by the things her daughter could achieve. So, after careful thought, Jessup suggested "Eliza," inspired by the fictionalized heroine from "My Fair Lady," Eliza Doolittle.
"It occurred to me that if Mrs. Wang needed this service, then maybe other parents would as well," said Jessup.
The birth of a business
To scale up her idea, Jessup decided to launch a Chinese-language website that could replicate her selection process for numerous people simultaneously.
So, on returning to the U.K. to start her A-levels, Jessup borrowed 1,500 pounds (around US$1,980) from her father and hired a freelance web developer to build the website. Meanwhile, she, in her spare time, set to work filling its database with more than 4,000 boys and girls names, attributing to each five characteristics she felt best represent that name, such as honest and optimistic.
Jessup said that process was "labor-intensive" initially, but algorithms have taken away much of the heavy lifting of baby naming.
The website works by asking users to choose five characteristics from a list of 12 that they would most like their child to embody. An algorithm then selects three gender-specific names matched to those five characteristics. Users are then encouraged to share the three suggestions with their friends and family to settle on their favorite. The process takes just three minutes.
Initially, Jessup provided the service for free. But after naming 162,000 babies, she introduced a fee of 60 pence. Those earnings have gone toward paying her university fees, investing in property and paying back her father's loan — with interest.
"I still update the database each month, but the business is fully automated, allowing me to focus full-time on my studies," said Jessup, who is studying social anthropology at the London School of Economics.
(SD-Agencies)