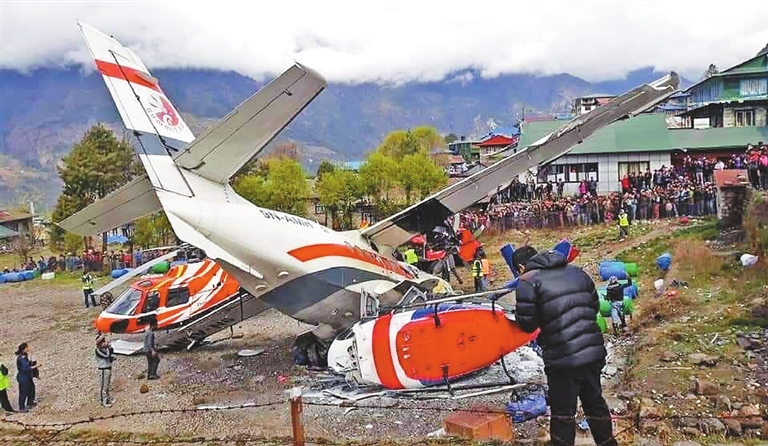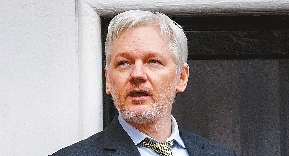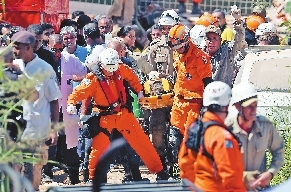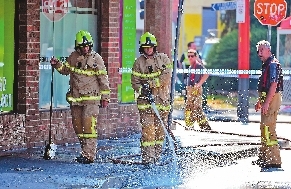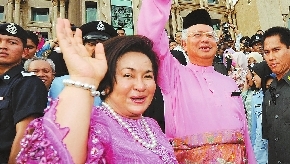 Plane crashes into helicopter, killing three
The site of an airplane crash is pictured in Lukla, Nepal, on Sunday. A small passenger plane crashed into a parked helicopter during takeoff at Tenzing Hillary Airport in Nepal on Sunday, killing at least three people and injuring four others, officials said. Both are from private airline companies that cater to tourists and Nepalese in the country's remote areas.SD-Agencies
Ecuador president defends Assange asylum withdrawal
Ecuadoran President Lenin Moreno on Sunday defended his decision to overturn* Julian Assange's asylum status, claiming in an interview with the Guardian newspaper that the WikiLeaks founder had tried to set up a "center for spying" in Ecuador's London embassy.
"It is unfortunate that, from our territory and with the permission of authorities of the previous government, facilities have been provided within the Ecuadoran embassy in London to interfere in processes of other states," Moreno said.
The WikiLeaks founder is in custody in London awaiting sentencing for breaching his British bail conditions in 2012 by seeking refuge in the Ecuadoran embassy to avoid extradition* to Sweden.
Death toll from collapse of Rio buildings rises to 8
Rescuers still hope to find survivors in the rubble of a pair of collapsed buildings in Rio de Janeiro, officials said on Saturday, as the death toll from the disaster rose to eight with 16 people listed as missing.
The condemned four-story buildings collapsed on Friday in the hillside neighborhood of Itanhanga, an area that was hard hit by recent heavy rains and flash floods.
Australia club shooting leaves 1 dead, 1 critical
A drive-by* shooting outside a popular Melbourne nightclub in Australia on Sunday left one man dead, another critically wounded and two others injured, police said.
Police said shots were fired from a car into a crowd standing outside the two-story Love Machine club, hitting three security guards at the nightclub and one patron.
Police appealed for anyone with video footage or information to come forward. They have made no arrests so far. Four people were taken to a hospital, two of whom were in critical condition. Police later confirmed that one man, 37 years old, had died.
Malaysia former first lady hit with fresh charge
The wife of Malaysia's former Prime Minister Najib Razak was hit with a new corruption charge last week over a solar energy contract.
Rosmah Mansor pleaded not guilty to accepting a 5 million ringgit (US$1.22 million) bribe through her aide from a manager at Jepak Holdings as a kickback* for helping secure a contract from the Education Ministry.
EU gives Britain 6-month delay to Brexit date
European leaders agreed with Britain on Thursday to delay Brexit by up to six months, saving the continent from what could have been a chaotic no-deal departure at the end of the week.
The deal struck during late-night talks in Brussels means that if London remains in the EU after May 22, British voters will have to take part in European elections.
U.K. Prime Minister Theresa May and the other 27 EU leaders "have agreed a flexible extension until October 31," European Council president Donald Tusk said in a tweet. (SD-Agencies)