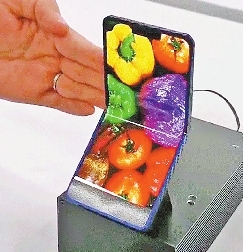 Sharp has unveiled a new prototype* phone that folds vertically, transforming its 6.18-inch display into one that's small enough to fit in your pocket.
The elongated* screen features 1440 x 3040 resolution*, making the display surprisingly crisp and clear. Sharp noted that the phone also supports outward folding akin to other tablet-style folding displays on the market. What's more, Sharp claims that the screen can withstand being folded more than 300,000 times before it starts to show damage. That means if you fold your phone 100 times a day, it'll last roughly eight years before it begins to show some wear and tear*.
Samsung says its own folding phone, the Galaxy Fold, can withstand up to 200,000 folds. However, that number has been disputed by Bloomberg, which reported that the fold develops a crease* on the main screen after it's folded about 10,000 times. The flaw has caused the tech giant to consider offering free screen replacements once it goes on sale.
Sharp's phone is still in the early stages of development. Sharp has reportedly been mulling over a folding phone for a while, having filed a patent* in 2017 for a flexible display. It features a vertically folding display with a clamshell* design.(SD-Agencies)