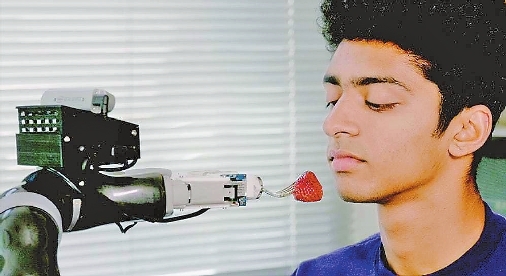 A dexterous* robot arm that can automatically* feed people forkfuls of food has been developed by researchers in the United States.
Experts studied how real people use forks to feed each other in order to teach the robot the best way to go about its task. The arm automatically adjusts both the force it uses and the angle at which it spears items to best pick up and deliver mouthfuls of food regardless of size or texture.
The Assistive Dexterous Arm (ADA), is a nimble* automaton, which along with its controlling computer, can be attached to a user's wheelchair. ADA is guided in part by its on-arm camera and tactile sensor.
When activated, the robot simulates* real human motions in order to identify, pick up and deliver bite-sized food items using its fork, adapting its technique depending on the morsel in question.
The team set up an experiment to study how people eat various common foods. Volunteers were observed using a special fork, which contained sensors to measure how much force was being applied to it, to pick up and feed different pieces of food to a mannequin*.
The snacks the researchers served up in the tests were picked to have a range of consistencies, covering everything from hard carrots to soft banana slices as well as produce with tough skins but soft insides like grapes and tomatoes.
People use different fork techniques to pick up different types of food, the researchers noted.
Next, the researchers applied what they learned to teach ADA to do the feeding itself. To deliver an adaptable feeding strategy, the researchers combined two different algorithms* within the ADA's controlling computer, which they designed to be mounted under the seat of the user's wheelchair.
Once ADA had picked up food, facial tracking helps it guide the food into the user's mouth at the best angle for taking a bite.
(SD-Agencies)