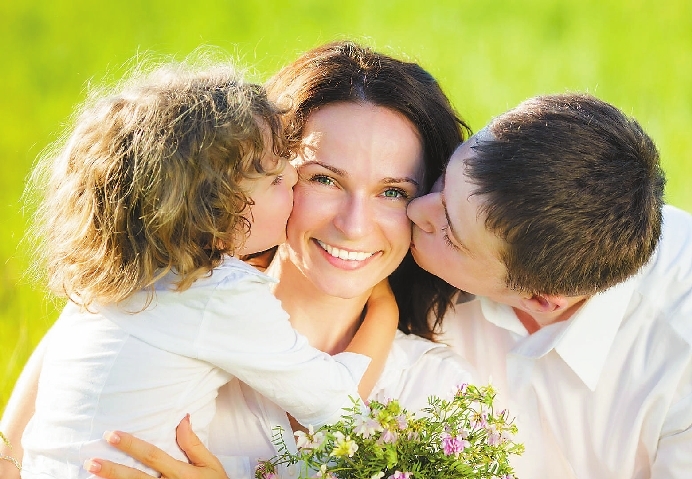 HOW do you want to spend your special day, Mom? Here are some ideas, and let your family know.
1. Find the humor in family life.
Start a new tradition this year by creating a family comic strip. Take a long sheet of paper, and draw three or four large squares next to one another, like a newspaper comic strip. Then think of an event, celebration, or something funny that happened this past year, and illustrate it with markers, crayons or paints. Be sure to include dialogue, a date and a title, such as "Life with the Smiths." Older children can help with the drawing and writing, while younger kids can dictate their thoughts or help color. Save your comic strip, and create another one next year and others in years to come. When you're ready to compile all of your strips into a book, stack the pages and thread them together with sturdy yarn.
2. Make a little music.
Nothing brightens a family celebration quite like music. But if you want to really turn up the volume on fun, stage your own "lip-synch" contest. To begin, have each family member choose a favorite song from a CD or video that you currently own. Then turn on the music, and let each person lip-synch the words to the song, doing his or her best to mimic the performer. Other family members can rate the performance from one to five, and write down their score on a card. The person with the highest score wins the contest.
3. Get pampered.
At some point on Mother's Day, you may want some time alone or a chance for a little rest and relaxation. Make sure you get what you need — and deserve — by asking for it in advance. For instance, a few days before Mother's Day, give your husband and kids a list of five "services" you desire. The list could include:
An hour alone so I can call a friend or soak in the tub
A chance to sleep in until 9 a.m.
A manicure at my favorite nail salon
No sibling squabbles for an hour
Whatever else you'd really love!
Have your family make up coupons with each of these services, and be sure to redeem them throughout Mother's Day weekend.
4. Go on a "bug safari."
Now that spring's in the air, why not gather up your family for a good old-fashioned bug safari? To begin, you'll need an insect field guide (to identify the creepy, crawly creatures), a magnifying glass (to inspect them closely), and a field to explore (this could be your own backyard or a local park). Get kids in the spirit by telling them some fun facts about bugs. For instance, grasshoppers can leap 20 times the length of their body, which would be like a human jumping halfway across a football field. After the safari, kids can run around and pick wildflowers and present you with a homemade bouquet.
5. Make a "lasting impression."
On a warm day, go outside and have your children (and anyone else who's game) place their hands and feet into a shallow tub of colorful, nontoxic paint. Spread out a roll of butcher paper, and have everyone press their hands and feet onto it, leaving their prints behind. Label each handprint and footprint with the person's name, the date, and special message to Mom, and let your collective masterpiece dry. Try this activity again next year, and see how much bigger some hands and feet have become!
6. Plant some flowers.
If you have some extra space on your balcony, you can create a real, live Mother's Day canvas. First, buy various packets of flower seeds that grow fast and well in your region. Then have your kids draw a picture or write a short message (like "We love Mom") in the garden dirt with a stick. Drop the flower seeds into the dirt lines; then cover them up and water every few days. Before long, your picture (or message) will be blooming, and you'll have a Mother's Day gift that keeps on growing.
7. Schedule time for hugs.
Finally, what would Mother's Day be like without hugs and kisses all around? One way to work them into your day is by setting up a silly "hugs and kisses" schedule and posting it on the refrigerator or other visible spot. For instance, you could write, "10:30 a.m.: Everyone runs around the couch and gives Mom a hug and kiss." or "2:15 p.m.: Everyone hops around the oak tree on one foot and assembles for a group hug." Make up your own directions and silly things to do — but be sure to include lots of hugs, kisses and laughter in your day. (SD-Agencies)