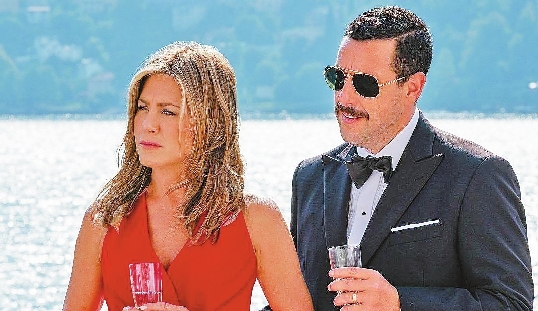 JENNIFER ANISTON and Adam Sandler are back together in upcoming Netflix film "Murder Mystery" and are giving fans the first taste of what's to come.
In new stills from the film Sandler, 52, and Aniston, 50, play married couple Nick and Audrey Spitz who are dressed in a black suit and red dress, respectively.
Sandler's Nick is a New York City cop who finally takes his wife on a long-promised trip to Europe. On a flight there, they get invited to an intimate family gathering on the superyacht of an elderly billionaire who is later murdered.
The unsuspecting couple finds themselves on the run after they get framed for his murder.
The longtime friends were photographed filming on set in Milan, Italy in August 2018. The last time the two worked together was in 2011's "Just Go With It."
"Murder Mystery" also stars Gemma Arterton, Luke Evans, John Kani and Terence Stamp.
Aniston has been keeping busy, making an appearance at the Steve Jobs Theater in California in March for the unveiling of her new TV drama "The Morning Show."
"I'm really excited about it," Aniston said of returning to television, where she first rose to fame on "Friends." "Through the prism of those under-slept and over-adrenalined people behind and in front of the camera, we take an honest look at relationships between women and men in the workplace."
(SD-Agencies)