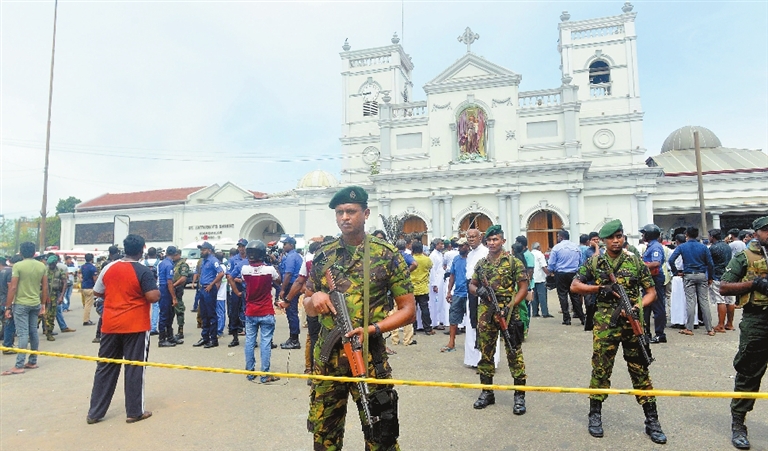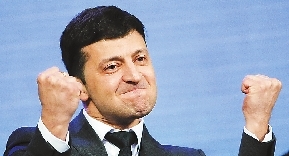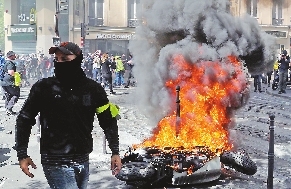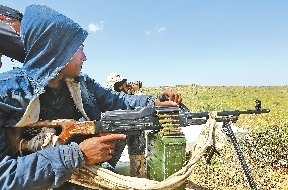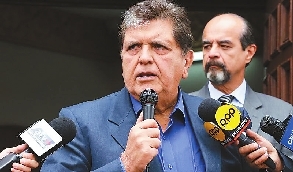 Hundreds die in sri lanka blasts
Sri Lankan military officials stand guard in front of the St. Anthony's Church in Kochchikade after an explosion in Colombo, Sri Lanka, on Sunday. Multiple blasts that shook Sri Lanka on Sunday have taken the lives of more than 300 people, and a curfew* has been declared nationwide, Sri Lankan authorities said. SD-Agencies
Comedian Zelensky wins Ukraine vote
A comedian with no political experience won a landslide victory in Ukraine's presidential election, drawing congratulations from global leaders while dealing a stunning rebuke* to his country's political establishment.
Volodymyr Zelensky, whose only previous political role was playing the president on a TV show, trounced* incumbent* Petro Poroshenko by taking 73.2 percent of the vote, according to nearly complete official results released on Monday.
Poroshenko garnered just 24.4 percent. It was an extraordinary outcome to a campaign that started as a joke but struck a chord with voters frustrated by social injustice, corruption and a war with Russian-backed separatists.
Yellow vest anger burns in Paris, 200 arrested
French yellow vest protesters set fires on Saturday along a march through Paris to drive home their message to a government they believe is ignoring the poor: that rebuilding the fire-ravaged Notre Dame Cathedral isn't the only problem France needs to solve.
Like the high-visibility vests the protesters wear, the scattered* small fires in Paris appeared to be a collective plea* to French President Emmanuel Macron's government to "look at me — I need help too!"
220 killed in Libya clashes last 2 weeks
Fighting between rival Libyan forces for control of Tripoli escalated in the past couple of days, a spokesman for the self-styled Libyan National Army (LNA) said on Saturday, as the death toll rose to at least 220, including combatants and civilians, since the LNA declared a major military offensive to take the capital earlier this month.
Fighting erupted on April 5 pitting the LNA, led by Field Marshal Khalifa Hifter and aligned with a rival government in the east, against militias* affiliated* with Tripoli's U.N.-supported government.
Ex-Peruvian president dies after shooting himself
Former Peruvian President Alan Garcia died on April 17 in a hospital in Lima, Peruvian President Martin Vizcarra confirmed on Twitter.
Vizcarra said that he was "consternated*" by Garcia's death, and sent his condolences* to his family.
Garcia, 69, shot himself in the head to avoid a preliminary arrest ordered by the justice authorities for his alleged links to the corruption scandal of Brazilian construction giant Odebrecht.
Woman sues JD.com founder for alleged rape
A woman who said she was raped by JD.com founder Richard Liu filed a lawsuit on April 16 against the billionaire and his company alleging he and other wealthy Chinese executives coerced* her to drink during a dinner in the hours before she was attacked.
Jingyao Liu, a student at the University of Minnesota, claims Liu forced himself upon her in his vehicle after the dinner and later raped her at her apartment. The lawsuit seeks damages of more than US$50,000.(SD-Agencies)