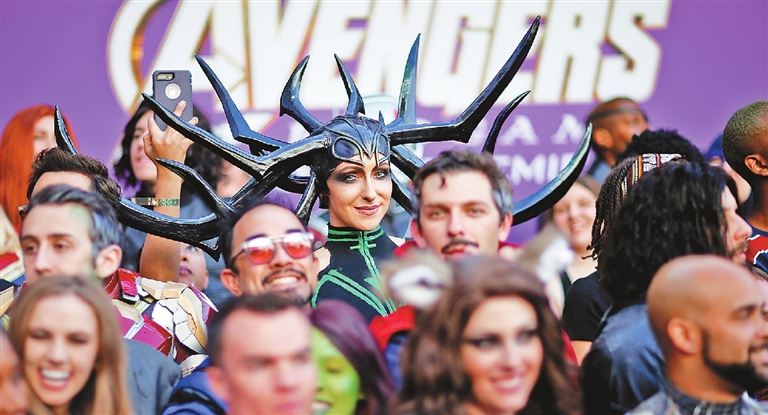 "AVENGERS: Endgame" raked in US$107.2 million on its opening day in China Wednesday, setting a new record and putting itself firmly on track to become the biggest Hollywood title ever in the country.
Disney forecasted that its new tentpole would end the day with about 719 million yuan (US$107.2 million), including midnight and wee-hour showings that began Tuesday night and ran into early Wednesday. By about 9 p.m. Wednesday, the Marvel finale had hauled in 681 million yuan, according to China Box Office. That easily gives "Endgame" the record for the biggest opening day in Chinese history, surpassing domestic film "Monster Hunt 2" (which did not have midnight previews).
"Endgame" had also already set a new all-time record for ticket pre-sales, selling more than US$110 million worth ahead of its Tuesday-night midnight opening to beat "Monster Hunt 2," which sold US$59.6 million.
It was also the first film in China to exceed 100 million yuan in pre-sales for midnight screenings. Astonishingly, the film accounted for nearly every single movie ticket sold Wednesday in China — a 99 percent share — and accounted for 83 percent of screenings. Popular theaters across the country had a screening of "Endgame" starting every 15 minutes.
The Maoyan online ticketing platform estimates that "Endgame" will haul in a total of 3.5 billion yuan over the course of its run. That would make it the top-performing foreign film ever and the fourth-highest-grossing film of all time in China, behind homegrown nationalistic epics "Wolf Warrior II" (5.68 billion yuan), "The Wandering Earth" (4.66 billion yuan), and "Operation Red Sea" (3.65 billion yuan).
The top-performing foreign film has so far been 2017's "The Fate of the Furious," with a 2.67-billion-yuan haul. Films in China are typically given a four-week screening window, but extremely high-performing titles may be given an extension by the authorities.
"Endgame" is the sequel to last year's "Avengers: Infinity War," and the final chapter in the 22-film-long saga of the Marvel Cinematic Universe, which began with 2008's "Iron Man." "Infinity War" made the biggest debut in China of all time with a 1.28-billion-yuan three-day opening weekend. It went on to earn a total of 2.39 billion yuan at the Chinese box office, making it the 11th-highest-grossing title of all time in China.
But "Endgame" appears as if it will smash its predecessor's performance by a long way, though it will benefit from a five-day opening frame in China instead of just three days. Estimates put the haul over that period at about US$270 million, and possibly past the US$300 million mark.
It had 39,000 midnight screenings and is scheduled for 219,000 opening day screenings, for what appears to be an unprecedented total of 258,000 screenings in its first 24 hours — enough that every single screen in China would have had to play the film at least four times by the end of the day. By comparison, China's most recent mega-blockbuster, February's "The Wandering Earth," had only about a quarter of that in the same time period, with just 64,883 screenings, and last year's smash hit "Operation Red Sea" had even fewer, with 45,000.
The film is currently rated a 9.3, 9.4 and 9.2 out of 10 on the Maoyan, Taopiaopiao and Douban user review platforms, respectively. More than 40 percent of viewers hail from the country's second-tier cities, and audiences are majority white-collar and male, with 34 percent of them between the ages of 20 and 24.
"The film was expected to be popular, but I really didn't imagine it would be so hot," a theater manager told the Chinese-language Securities Daily.
Pre-screenings were in such high demand that prices soared. Though the average ticket price for an IMAX film in China is around 40-80 yuan, midnight screenings going for more than 300 yuan sold out in cities nationwide. A system malfunction had one Shanghai theater accidentally selling tickets for more than 1,000 a pop. More than half were sold before they caught the bug and returned the fare back to 64 yuan.
The film's popularity has also inspired some Chinese movie theaters to skim off the top of its box office by charging and pocketing excessive "service fees" for each ticket sold. More than 1,050 theaters engaged in the practice for 220,000 tickets, according to Chinese website Mtime. Chinese authorities have stepped in to say that theaters charging more than 10 percent of the actual ticket price in service fees will have their ability to download the film from its digital screening key revoked, a leaked document circulating online revealed. (SD-Agencies)