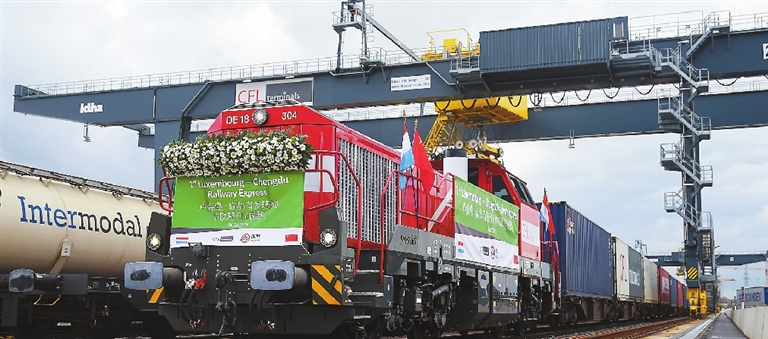 AMID a surging trend toward global interconnectivity propelled by the China-proposed Belt and Road Initiative (BRI), noises pop up from time to time as to how this grand vision of the BRI may have its bearing on the world.
The Belt and Road, referring to the Silk Road Economic Belt and the 21st Century Maritime Silk Road initiated by President Xi Jinping in 2013, aims to build trade and infrastructure networks connecting Asia with Europe and Africa and beyond the ancient Silk Road routes.
Eyeing high-quality cooperation in boosting common prosperity, the Second Belt and Road Forum for International Cooperation was held Wednesday through Saturday in Beijing. Some 5,000 participants from more than 150 countries and 90 international organizations participated in the forum.
Facts have come to show that the BRI is a peaceful, open and green road of win-win cooperation, as well as a revitalized historical route leading to a community with a shared future for humanity.
Debt trap vs. development
dividend
"Debt trap diplomacy" has been a big buy for those with a Cold War mindset, demonizing China's loans as "creating economic dependency on Beijing." Facts show, however, that the BRI is helping lift countries out of a "trap of no development" rather than duping them into a "debt trap."
To start with, developing countries in the stage of economic takeoff, especially those in Asia and Africa, are in urgent need of capital for infrastructure investment. What China has done is to extend a helping hand to such programs, based on the principle of "mutual respect, justice and fairness, and win-win results."
In terms of project selection as well as investment and financing cooperation under the BRI, all concerned parties will make decisions prudently after joint consultation, risk assessment and feasibility studies.
"For those with difficulty in debt repayment, China seeks proper settlement via friendly consultation, and never coerces them into repaying the debt," said Yang Jiechi, director of the Office of the Foreign Affairs Commission of the Communist Party of China Central Committee.
A further look at a country-specific debt portfolio reveals the lack of fairness of the debt-trap rhetoric.
For instance, Sarmad Ali, managing director of Jang Media Group, the largest media group in Pakistan, said that the debt incurred by the China-Pakistan Economic Corridor (CPEC), the framework of regional connectivity under BRI cooperation, accounts for only around 6 percent of Pakistan's total external debt and liabilities.
CPEC is not only a drive for development, but also injects huge amounts of capital into Pakistan, he added.
Some Western critics have blasted China for "intentionally creating" the debt problem of Sri Lanka's Hambantota Port and its handover, but such allegations are no more than a fabrication.
Sri Lanka has "limited experience" in absorbing capital and management, and that's why the country decided to cooperate with China Merchants Group on the operation, Sri Lanka's Prime Minister Ranil Wickremesinghe told the press recently.
Toward bettering the sustainability of infrastructure in B&R countries, which requires huge and high-stakes input and returns over a long time, China is quickening its pace to help BRI participants with auxiliary facilities and systematic development planning, to improve the external conditions for their economic prosperity.
Black-box operations vs.
a transparent plan
Western critics are inclined to use "black-box operations" to describe B&R cooperation, saying that China has an opaque system when it comes to initiative-related decision-making.
However, officials and experts say from notion to action, the BRI advocates and adheres to the principle of transparency and inclusiveness.
"China has kicked off the initiative, but it is up to others to join and play the game together," said Ruan Zongze, executive vice president of the China Institute of International Studies.
Director-general of the UN Food and Agriculture Organization Jose Graziano da Silva praised China for pursuing inclusive development with no one left behind, and Caroline Kennedy-Pipe, an expert on international security from Britain, believed no dangers were detected in Chinese investment and that B&R cooperation is transparent.
Nothing could better exemplify the success of the initiative than the significant traction enjoyed by the BRI.
To date, 126 countries and 29 international organizations have concluded BRI-related cooperation agreements with China, including Italy, a member of the Group of Seven.
There is no single dominant party, but equal participants; no operations under the table, but openness and transparency; no "winner taking it all," but mutual benefits and a win-win situation, said Wang Yiwei, a professor with Renmin University of China.
Furthermore, the projects under the Belt and Road framework are in line with the basic norms of international laws and regulations and abide by internationally accepted business logic and operational models.
Just as President Xi said, the BRI is "a plan in the sunshine."
Heavy polluter vs. green
champion
Is China exporting "surplus production capacity" via the BRI, as purported by some? Facts show the BRI is an epitome of a green champion rather than a diversion of pollution leading to "environmental risks."
"Green finance is becoming steadily more influential in the Belt and Road, and China is playing a prominent role in this trend," stated a Standard Chartered article about the BRI published on its website in 2018, expecting BRI to be the "opportunities to serve the greater good."
In line with China's persistent endeavor to "draw a redline" on pollution control, enterprises are required to play a principal role in ecological governance and are encouraged to release annual reports on environmental performance in abiding by relevant laws and regulations in B&R countries, as laid down in a China-issued guidance on promoting green BRI.
As a manifestation of nature-human harmony, Cambodia's Sanghe II hydropower station, its largest hydropower project jointly developed with China, has set aside an artificial passageway for fish migration after a careful environmental impact assessment, to avoid soil erosion and biodiversity degradation.
The Ethiopia-China Joint Laboratory at the Ethiopian Leather Industry Development Institute, by the same token, gives effective treatment to tannery wastewater, a successful marriage of sound economic payback and ecological sustainability.
"China's experience in renewable energy technology application can also be replicated via BRI cooperation in the Middle East, Africa and other regions, to inspire green development paradigms," said Erik Solheim, former executive director of United Nations Environment Program.
Geopolitical strategy vs.
global public goods
With its growing popularity, the BRI is accused by some of having ulterior motives as one of China's instruments in its geopolitical conflicts with other major countries.
In fact, as one of the most well-known international public goods and platforms for global cooperation, the initiative aims to achieve common prosperity rather than boost the so-called "Chinese clout."
"China does not have a clique of allies to cajole or enemies to coerce. The Belt and Road construction is aimed at achieving the common development of all countries rather than seeking spheres of political influence," said Wang Yiwei.
He said the BRI is not like Marshall Plan, and China is not trying to buy friends. "No political conditions have been imposed on participants in the initiative, nor is it ideologically oriented," Wang added.
It should be noted that many countries and regions actively dovetailed the BRI with their own development plans, ranging from the EU's Junker Investment Plan to the Master Plan on ASEAN Connectivity, the Russia-led Eurasian Economic Union, Turkey's Middle Corridor projects, and Kazakhstan's Bright Path.
BRI-related investments can lift up to 34 million people from moderate poverty with respect to the baseline, among whom 29.4 million are from countries and regions along the BRI route, according to a recent World Bank report.
Thanks to the accelerated Belt and Road cooperation, the Maldives had its first inter-island bridge, Belarus was enabled to produce passenger vehicles, and the landlocked Kazakhstan was connected to the Pacific Ocean via the logistics base in China's Lianyungang city.
Changyong Rhee, director of the International Monetary Fund Asia and Pacific Department, believes the BRI has benefited the world in fostering infrastructure needed in low-income countries and also promoting regional cooperation and connectivity in trade investment, human mobility and finance. It is a "very important contribution" to the global economy, Rhee said. (Xinhua)