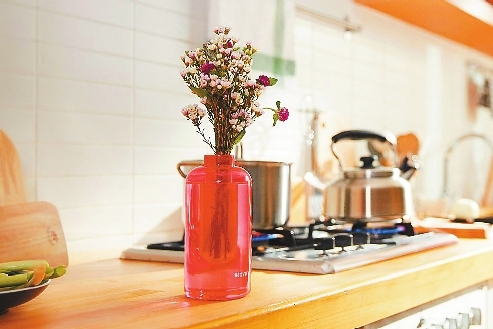 At first glance, Samsung's new invention, the Firevase, looks just like any other — a translucent* red tube of PVC* with a hollow center compartment to house flowers or other plants. What separates the vase from other decorative containers, according to Samsung, is its ability to save lives.
In the throwable PVC vase's outer chamber is a fire-killing mixture of potassium carbonate* that is able to both cool and compress* oxygen upon impact.
To activate the extinguisher, one need to follow a simple task: point and throw.
In a video demonstrating the Firevase, wielders are shown hurling the eye-pleasing vase directly at a blaze and then, in a mist of glass and water, the fire is extinguished.
By making the life-safety device more appealing to the eye, the company hopes that people will be more likely to leave the vase in a convenient location — this benefit, they hope, could mean the difference between catastrophe* and close call*.
The vase, which was developed by Cheil Worldwide, a subsidiary of Samsung, is being offered to customers of Samsung's Fire and Marine insurance in South Korea. The company's efforts appear to be working as the amount of homes with a fire extinguisher have increased by 8 percent since the Firevase's launch.
(SD-Agencies)