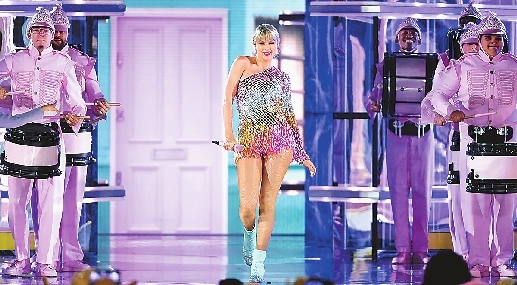 Controversy
SINGING her new single "ME!" with a drumline and dressed like a majorette, some on social media pointed out that Taylor Swift's production looked a lot like Beyonce's instantly iconic 2018 Coachella show. The parallels resulted in the Swift-targeted hashtag #Mayochella and criticism that compared Swift to a "professional troll."
Beyonce's "Homecoming" documentary, which dropped on Netflix just two weeks ago, showcases the thought and rehearsal that went into her Coachella performances, designed, she said, to honor African-American culture and historically black universities through her music selections, costumes and choreography.
Swift supporters on Twitter pointed out that Wednesday wasn't the first time Swift had performed with a marching band.
Icon
MARIAH CAREY joined the ranks of Stevie Wonder, Prince and Cher when she received the Icon Award at the 2019 Billboard Music Awards on Wednesday.
Jennifer Hudson introduced Carey, who performed a medley of her greatest hits, including "A No No," "Always Be My Baby," "Emotions," "We Belong Together," and "Hero," before her acceptance speech.
Carey is currently the only artist to top the Billboard Hot 100 in each year of any decade, which she managed to do in the 1990s. She's also had 19 total top spots on the chart, which is the most among any soloist.
Tough
KELLY CLARKSON nailed her hosting gig at the Billboard Music Awards on Wednesday night, and even performed her new song, "Broken & Beautiful." Little did fans at home know, however, that she had been dealing with appendicitis pain the whole time and underwent surgery hours after the event to get her appendix removed.
The songstress confirmed the news Thursday in a tweet.
Clarkson opened the BBMAs with a medley of the year's biggest hits, including Florida Georgia Line's "Meant to Be," Ella Mai's "Boo'd Up," Maroon 5's "Girls Like You" and Zedd's "The Middle."
The Awards were hosted by Clarkson for the second year in a row from the MGM Grand Garden Arena in Las Vegas.(SD-Agencies)