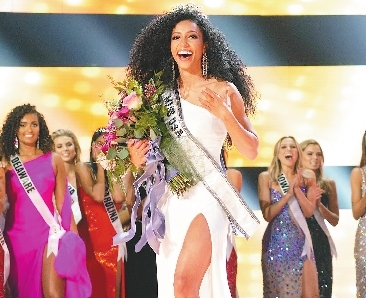 CHESLIE KRYST, a 28-year-old lawyer from North Carolina who represents prison inmates for free, won the 2019 Miss USA title Thursday night in a diverse field that included teachers, nurses and members of the military.
Alejandra Gonzalez of New Mexico was the first runner-up, and Oklahoma's Triana Browne the second runner-up during the competition in Reno, Nevada.
Kryst earned a law degree and an MBA at Wake Forest University before becoming a civil litigation attorney who does pro bono work to reduce sentences for inmates. She said during the final round that she was glad to be competing in Nevada partly because it's the first and only state in the nation with female majorities in both houses of the state legislature.
For the first time, America's top beauty pageants — Miss USA, Miss Teen USA and Miss America — have crowned black women as their winners at the same time.
And that's a big deal if you know pageant history.
Beauty pageants early in their histories, some dating back to the 1920s, barred women of color from participating. Even after organizations began changing their rules to accept women of all races, there was still a lingering frustration and opposition to join.
Only in the last 50 years have black women become more prevalent in these competitions. Vanessa Williams was the first black Miss America in 1983, and Carole Anne-Marie Gist, the first black Miss USA contestant, was crowned in 1990. The following year Janel Bishop became the first black Miss Teen USA.
So when Kryst was named 2019's Miss USA on Thursday, she became part of a historic trio, along with 2019 Miss Teen USA Kaliegh Garris and 2019 Miss America Nia Franklin.
(SD-Agencies)