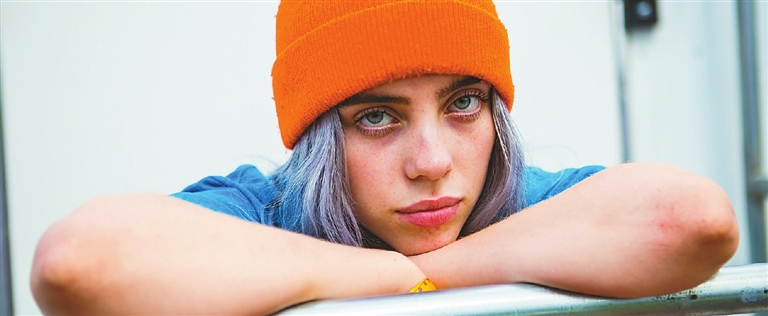 Age ain't nothing but a number. In Billie Eilish's case though, it's a big deal.
At 17, the pop rebel has achieved more than most artists do in their entire careers: She's charted five singles on the Billboard Hot 100 chart (including "Bury a Friend," which peaked at No. 14), racked up 15 million followers on Instagram, performed at Lollapalooza, and sold out three headlining tours in a matter of minutes.
In April, her debut album, "When We Fall Asleep, Where Do We Go?" bowed at No. 1 on the Billboard 200 chart with 313,000 equivalent album units (a combination of album sales, song downloads and streams). It's the second largest sales week for an album this year, after Ariana Grande's "thank u, next" debuted with 360,000 units in February.
From celebrity supporters to rumored Illuminati ties, here's everything you need to know about the fast-rising Los Angeles native with a devoted Gen Z following.
'Pirate' is one of her three
middle names
The singer was born Billie Eilish Pirate Baird O'Connell to actors Maggie Baird and Patrick O'Connell, whose mutual TV credits include "The West Wing" and "Days of Our Lives." Her first middle name was going to be "Pirate," but "then my uncle had a problem with it because pirates are bad," she explained to the BBC in 2017.
Her brother is singer/actor Finneas O'Connell, who has recurred on shows including "Glee" and "Modern Family." He produced and co-wrote much of Eilish's debut album in their childhood home, where they both were homeschooled.
Her breakout song was recorded for dance class
In 2015, Eilish's dance teacher asked the then-13-year-old if she could record an original song for an upcoming recital. She and her brother uploaded the wistful pop ballad, "Ocean Eyes," to SoundCloud soon after, which quickly caught the attention of various music blogs and her now-co-manager Danny Rukasin.
"Ocean Eyes" has since garnered 92 million views on YouTube and 249 million streams on Spotify, having sold 176,000 downloads to date, according to Nielsen Music. It was featured on her 2017 EP "Don't Smile at Me."
A controversial image
With her baggy clothes, turquoise hair and introspective lyrics about depression and anxiety, Eilish has become a brooding pop idol for millions of teens who share her dark sensibilities and devil-may-care attitude.
Her music videos have been polarizing for their often-disturbing imagery, including extended shots of her crying black tears and getting tortured and injected by needles. Her appearance in the latter video as a black-eyed demon sparked online speculation that "I sold my soul to the Illuminati," Eilish said with a laugh in an interview in March. "I don't really know what the Illuminati is, to be honest with you!" (SD-Agencies)