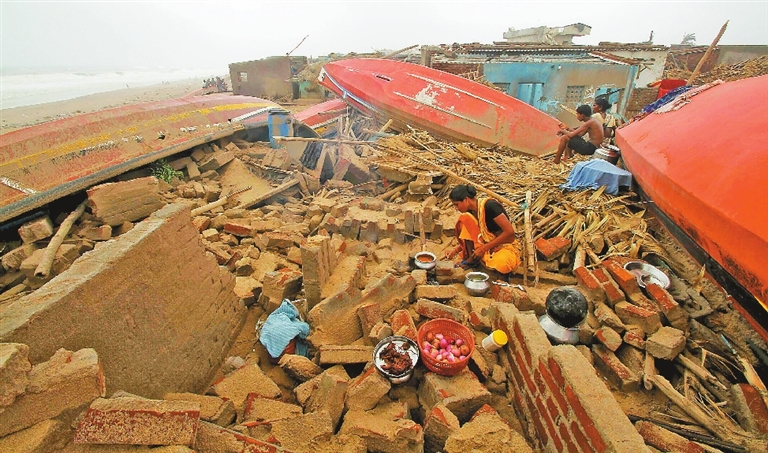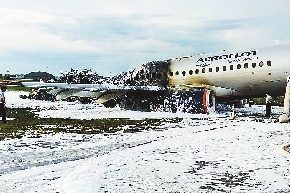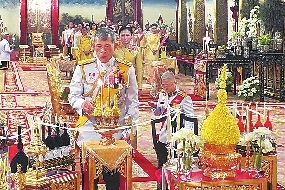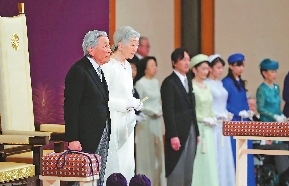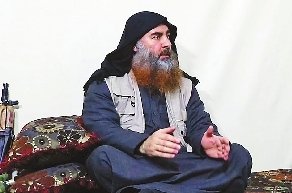 India cyclone kills dozens after massive evacuation
A woman cooks on the debris of her house following Cyclone Fani in Puri in the eastern state of Odisha, India, on Saturday. At least 33 people were killed after cyclone Fani struck the state of Odisha on Friday and hundreds of thousands of people were left homeless, officials said on Sunday.SD-Agencies
41 dead as Russian plane bursts into flames
A Russian passenger plane erupted in a huge ball of fire and black smoke after making an emergency landing at Moscow's busiest airport, killing 41 people including at least two children.
Dramatic footage that went viral on social media showed Aeroflot's Sukhoi Superjet 100 aircraft crash-landing and then speeding along the runway at Sheremetyevo international airport on Sunday, flames pouring from its fuselage*.
"There were 78 people including crew members on board," Russia's Investigative Committee said.
Newly crowned Thai king grants titles
Thailand's newly crowned King Maha Vajiralongkorn on Sunday performed the second day of coronation* activities, granting new titles to members of the royal family in front of an audience of dignitaries* including top government officials and senior Buddhist monks.
On Saturday, Vajiralongkorn took part in an elaborate set of rituals, a mix of Buddhist and Hindu Brahmanic* traditions, which established his status as a full-fledged* monarch* with complete regal* powers.
Japan's Emperor Akihito abdicates
Japanese Emperor Akihito declared his abdication* in his final speech as a monarch last week and said he sincerely hoped for a stable future for Japan and peace and happiness around the world.
"Since ascending the throne 30 years ago, I have performed my duties as the emperor with a deep sense of trust in and respect for the people, and I consider myself most fortunate to have been able to do so," the emperor said.
"I sincerely thank the people who accepted and supported me in my role as the symbol of the state," Akihito said.
IS leader al-Baghdadi appears in new video
The leader of the Islamic State (IS) group, Abu Bakr al-Baghdadi, has appeared in a new video for the first time in five years.
Five years ago, al-Baghdadi mounted the pulpit of a mosque in Iraq to declare himself the head of a rapidly expanding terrorist organization.
Since then, his group, the Islamic State, has transfixed the world with its apocalyptic* violence while he has remained a mystery.
France Telecom goes on trial over wave of suicides
A decade after a wave of suicides at France Telecom in which 35 employees took their own lives, the telecoms giant and its former CEO went on trial on Monday for "moral harassment."
The case will look at what was behind the deaths that occurred between 2008 and 2009 when Didier Lombard was at the helm of the company, which is today known as Orange.
The trial opened at the Paris criminal court.(SD-Agencies)