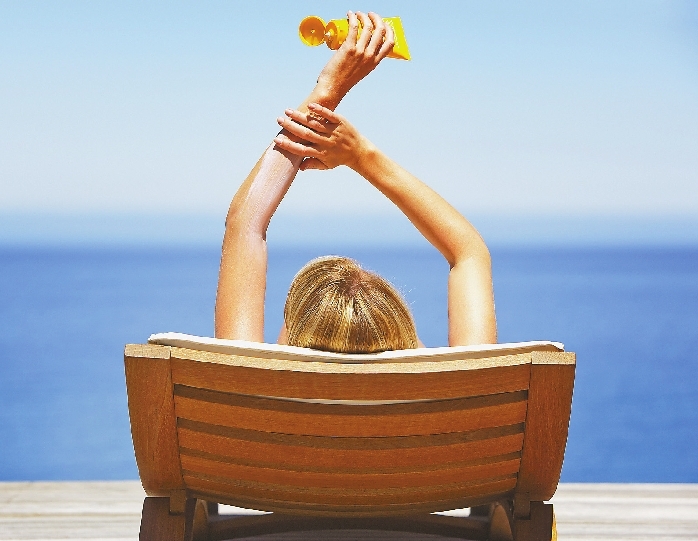 AN FDA study found that chemicals in many common sunscreens can be absorbed into your blood, but experts say you shouldn't stop using sunscreen altogether.
The study, published Monday in JAMA (Journal of the American Medical Association), found four active ingredients common in sunscreens — avobenzone, oxybenzone, octocrylene and ecamsule — enter the bloodstream at levels that far exceed the FDA's recommended threshold without a government safety inspection.
Sunscreens with those ingredients, especially oxybenzone, should be avoided, says Nneka Leiba, the director of healthy living science at the nonprofit advocacy group, the Environmental Working Group (EWG), but alternatives exist.
"Don't shun sunscreens in general," Leiba said. "But lean toward using the mineral products available."
While the FDA found that the active ingredients in the sunscreens are entering people's bloodstreams, more research is needed to understand their impacts on human health, the study authors and experts say.
Oxybenzone is a potential endocrine disruptor, meaning it can affect growth, development and reproduction, Leiba said. According to her group, studies have shown it is a weak estrogen and can lower testosterone in adolescent boys. As a result, Leiba said sunscreens with oxybenzone should be avoided.
Oxybenzone may also be partially responsible for damaging coral reefs. Hawaii last year became the first U.S. state to ban sales of sunscreens with oxybenzone and octinoxate.
As for the other three chemicals in the FDA study, more research is needed to understand how they affect humans, Leiba said.
"What we do know is that all these (sunscreens) have been used for decades," said Dr. Henry W. Lim, a former president of the American Academy of Dermatology. "And thus far, there have been no reported data of systemic, internal side effects from the use of sunscreen."
In the United States, sunscreens were originally approved as an over-the-counter solution to sunburn. They came in two types: one using chemical combos to filter the sun, the other using minerals to block the sun such as titanium dioxide or zinc oxide, which leave a telltale white coating. With many people not wanting to sport a white tint, the popularity of the chemical sunscreens soared.
In a statement in response to the study, the American Academy of Dermatology encouraged people to continue using sunscreen with an SPF of 30 or higher along with other protective measures.
Lim also said that while the pilot study was scientifically designed, the amount and frequency of sunscreen applied was much higher than the average person would use.
So, should you stop using sunscreen? Absolutely not.
"The sun is the real enemy here," said Scott Faber, senior vice president for government affairs at EWG. The group publishes a yearly guide on sunscreens.
"It's not news that things that you put on your skin are absorbed into the body," Faber said. "This study is the FDA's way of showing sunscreen manufacturers they need to do the studies to see if chemical absorption poses health risks."
"It's important for consumers to know that for the purpose of this study, sunscreens were applied to 75 percent of the body, four times per day for four days — which is twice the amount that would be applied in what the scientific community considers real-world conditions," said Alex Kowcz, chief scientist for The Personal Care Products Council.
The council was concerned, she said, that the FDA's study might confuse consumers and discourage the use of sunscreen.
When going outside, the American Academy of Dermatology recommends applying at least 1 ounce of sunscreen to all exposed skin every two hours or after swimming, including "back, neck, face, ears, tops of your feet and legs. If you have thinning hair, either apply sunscreen to your scalp or wear a wide-brimmed hat. To protect your lips, apply a lip balm with a SPF of at least 15," the academy says, adding that since UV rays are always present, sunscreen should be applied to exposed skin even on cloudy days and in the winter.
There are ways to protect yourself and your family other than sunscreen. Seek shade, especially between 10 a.m. and 2 p.m. when the sun is at its hottest, and whenever your shadow is shorter than you. Use protective clothing, such as long-sleeved shirts and pants and a hat with a wide brim, and don't forget the sunglasses.
In a word, use sunscreen when necessary, but don't use sunscreen to prolong your time in the sun.
(SD-Agencies)