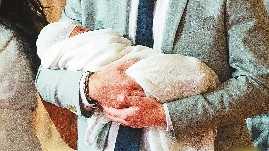 AFTER all the strategic guessing and the bookie bets on Meghan Markle and Prince Harry's baby name, it has finally been revealed by Buckingham Palace, and it's a mouthful: Archie Harrison Mountbatten-Windsor.
But, as we know thanks to princes Henry Charles Albert David and William Arthur Philip Louis Windsor, a royal baby name isn't usually just a name. That family has a habit of jam-packing each newborn's birth certificate full of nods to important figures, history, and secret little meanings.
So what's the scoop on Meghan and Harry's baby? Here's a breakdown of the name meaning, in its entirety:
"Archie" is a cute, albeit unusual, choice for a royal baby name. As far as we can tell, there has never been an "Archie" in the British royal lineup (although "Archibald" does make a couple of appearances), which immediately makes baby Archie unique.
According to the Evening Standard, Archie is actually a super popular baby name in the United Kingdom, and frequents top 20 name lists. The English meaning of the name is "true, bold, and valuable," which all checks out.
Princess Diana apparently had a relative named Archibald Campbell, 9th Earl of Argyll, from Scotland.
"Harrison" is also not a family name, but its meaning is literally "son of Harry," which is super on the nose.
Mountbatten-Windsor is the last name used by some of Queen Elizabeth and Prince Philip's relatives. Prince William has even used it before, so it's not really that surprising that it's going to baby Archie, even though his cousins Prince George, Princess Charlotte, and Prince Louis have a totally different last name.(SD-Agencies)