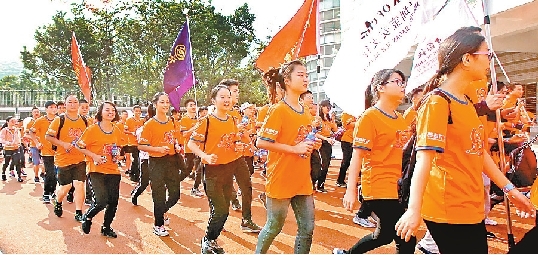 AROUND 3,500 people from all walks of life joined in a charity run on Fenghuang Mountain in Bao'an District on Saturday.
The charity run, called "Walk with Love," is a noncompetitive sporting event that combines greenway hiking, health and charity. It has been held for the past three years.
The themes of this year's event were green health, caring for public welfare and charitable fundraising. The main color of the event was orange, which highlights love and public welfare. There were two mascots named Baobao and An'an on the scene to cheer on the runners.
The charitable run also allowed runners to donate money by scanning a QR code. Runners could get a bronze souvenir badge for a donation of over 10 yuan (US$1.45), a silver souvenir badge for a donation of over 50 yuan and a gold souvenir badge for over 100 yuan.
Zhang Honghua, chairman of Bao'an District Charity Association, said the charity run advocates three concepts. The first one is to raise funds, the second is to live a healthy lifestyle and the third is to call on everyone to participate in charity.
Zhang added that in the future, the venue of the charity run will be permanently set up on the greenway of Fenghuang Mountain. The starting point will be at Bao'an No. 1 Foreign Languages School.
Meanwhile, a landmark for the charity run will be set up at the activity site, and the construction costs will be covered by local entrepreneurs.
So far, the event has raised more than 1 million yuan through four charity runs. The charity association has set up a special fund for the charity run and plans to launch a special child care assistance project at Shenzhen Hospital of Southern Medical University. The project aims to provide financial support to poor and disabled children with special diseases.
The charity run was jointly organized by Bao'an District Charity Association, Bao'an District Federation of Industry and Commerce, Bao'an District Volunteer Federation and the Bao'an branch of Bank of China in Shenzhen. (Zhang Yu)