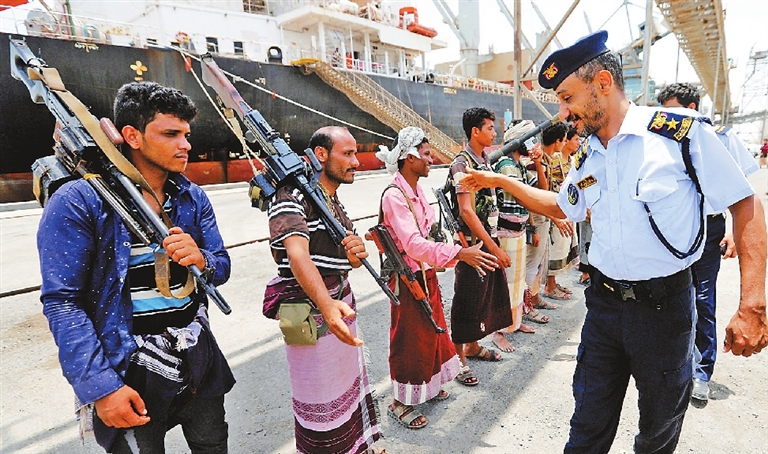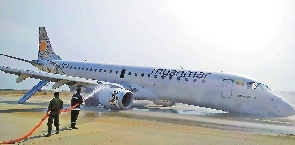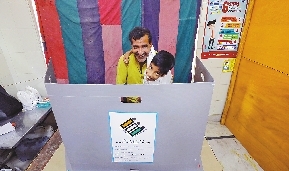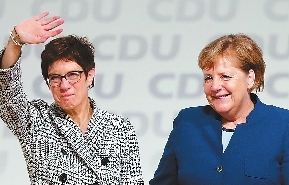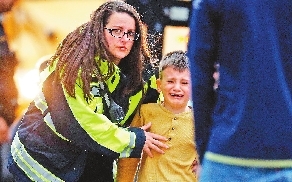 Houthi rebels start withdrawal
A Yemeni coast guard officer shakes hands with members of the Houthi movement during their withdrawal from Saleef port in Hodiedah, Yemen, on Saturday. Yemen's Iran-backed Houthi rebels have started to withdraw from the Red Sea port city of Hodiedah, a key lifeline for food and supplies, months after the United Nations brokered* an agreement to spare it from a prolonged conflict.SD-Agencies
Pilot lands plane without front wheels
A pilot in Myanmar is being hailed as a hero after landing a plane on Sunday on only its rear wheels, after the passenger jet's landing gear failed.
Myanmar Airlines Flight 103 was headed from Yangon to Mandalay when the pilot discovered the problem.
In a statement, the airline said pilot Captain Myat Moe Aung "followed emergency procedures and did the fuel burn out to reduce the landing weight," before bringing the jet down onto its rear wheels, lowering the nose carefully onto the runway on which it skidded for about 25 seconds before stopping.
Indians vote in penultimate phase
Voters in northern India lined up on Sunday to cast their ballots* in the second-to-last round of a seven-phase general election, with Prime Minister Narendra Modi facing a diverse group of opposition parties seeking to deny him a second term.
More than 100 million people across seven states are eligible to vote in the sixth phase of the 39-day-long poll, which Modi began on April 11 as front-runner* after an escalation* of tension with neighboring Pakistan.
But opposition parties have recently taken heart at what they see as signs Modi's Hindu nationalist Bharatiya Janata Party (BJP) may be losing ground.
Merkel should serve full term: heir apparent
The leader of Germany's ruling Christian Democrats (CDU) and heir presumptive* to Angela Merkel said she had no ambition to succeed her as chancellor until 2021 ahead of a major test of popularity at this month's European election.
Annegret Kramp-Karrenbauer, who last December won a party leadership contest as Merkel — Europe's longest-serving leader — sets the stage for her gradual exit from politics, said she had no desire to accelerate the process.
1 student dead, 8 injured in Colorado school shooting
One student was killed and eight students were injured in a shooting at a Colorado school in the United States on Tuesday, according to authorities.
The deceased male, who has not been identified, was 18 years old. Two suspects are in custody, Douglas County Undersheriff Holly Nicholson Kluth told reporters during a press conference.
S. Korea says no change in stance for aid to DPRK
South Korea's unification ministry in charge of inter-Korean relations said Friday that there was no change in its stance for humanitarian food aid to the Democratic People's Republic of Korea (DPRK).
Lee Eugene, deputy spokesperson of the unification ministry, said that there was no change in the position that it would be necessary to provide the food assistance for the DPRK.
The comment came a day after the DPRK fired off two unidentified projectiles, presumed to be short-range missiles, from its northwestern region.(SD-Agencies)