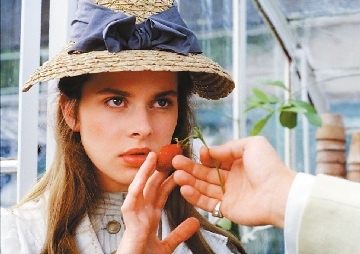 Li Haiyang
These days, I am blooming. And the more I read, it seems the bloomier I become.
I have been watching the movie "Tess" over and over again. And I have come to the conclusion that I don't want to be "good" or "virtuous," because the cultural setting where I live in is one that is worse than Tess.' So, being virtuous would never get me any rewards. This is just the way things are. I don't want to be tired beyond my physical strength and I don't want to die young as Tess did. What I want is to live rich and be happy, and I want to die very, very old.
By saying that I don't want to be "good" like Tess, I mean that I would lie when it's necessary, and I would rid myself of burdens which I should not have. I would allow myself to be half-conscious to avoid spiritual pain in order to keep enjoying my life a little longer. Tess should not have taken the huge responsibility of supporting her younger siblings onto her own shoulders, the whole weight of which was too much.
Maybe I am lying by saying I would have gotten rid of the responsibility of supporting little brothers. I am afraid that I was created this way, taking care of younger brothers, only to do this so I could see my mother's smile, so that I could be happy for a while. Otherwise, I would not be happy without a family.
I am the first girl from our extended family who became a teacher (working with foreigners). Currently, I am working on my BA degree. After I finish, I want to get my MA degree.
I feel lucky that I can choose what attitude to have when facing life and which friends to keep. I couldn't choose my ancestors to have a tall figure, but I could choose to live a healthy life.