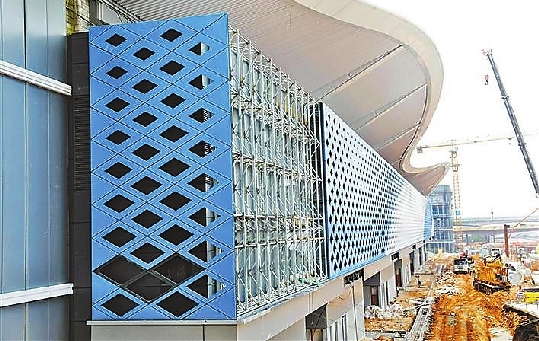 THE new Shenzhen International Convention and Exhibition Center, located in Bao'an District, will be put into trial operation in June, the Shenzhen Economic Daily reported yesterday.
The new convention and exhibition center is said to have a building area that equals six Beijing National Stadiums, widely known as the Bird's Nest in Beijing, and enough metal roofing to cover 106 soccer pitches, according to the report.
Apart from its big size, its aluminum curtain walls, a special outer covering on its buildings, is another highlight of this magnificent construction. The aluminum curtain walls serve to keep off rains and maintain room temperatures, the report said.
Over 120,000 square meters of the six halls of the convention and exhibition center that are constructed by CSCEC Fujisash Curtain Wall and Decoration Co. Ltd. have been equipped with such walls.
The thickness of each wall is 5 millimeters, which is 2 millimeters thicker than ordinary walling. The enhanced thickness can better absorb sounds and make buildings smoother in appearance, according to the report.
At Hall A9, there is a wall consisting of 4,084 diamond pieces in a geometric formation. The staff with the contractor of the project told the Daily that installing each piece by piece was difficult.
There is also a super door that is 8 meters tall, 6 meters wide and weighs 6 tons, and is an automatic system for roller blinds.
Residents will have a chance to visit the center during the trial operation, the report said.
(Wang Jingli)