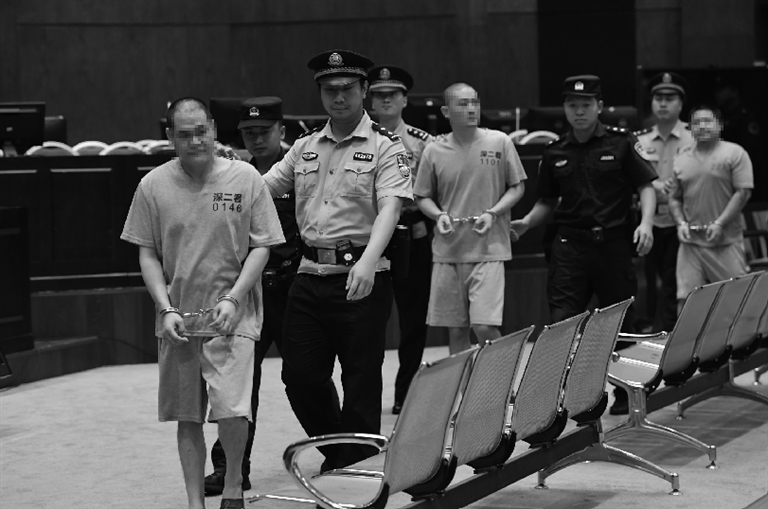 Chen Xiaochun
654789759@qq.com
TWENTY-SIX defendants involved in an organized prostitution ring were handed prison sentences ranging from two years to life and fined a total of 1.05 million yuan (US$152,774) for committing the crimes of organizing, assisting in organizing, sheltering or procuring other persons to engage in prostitution at Shenzhen Intermediate People's Court yesterday.
The principal criminal Zhang Yinghua was sentenced to life imprisonment, deprivation of political rights for life and confiscation of all the personally owned property for committing the crime of organizing prostitution.
"This case is very special, involving 26 defendants. We identified it as a mafia-style crime for several reasons. Firstly, the victims involved are basically underage girls aged 14 to 17. The crime gang organized them from Henan Province to engage in prostitution in a community in the central area of Futian District," said Zhong Hua, deputy chief judge of the First Criminal Division and vice director of Shenzhen Intermediate People's Court's office for wiping out mafia-like gangs.
"Secondly, the gang had been committing the crimes for over two years. Thirdly, it poses a severe threat to society. It has caused serious damage to the physical and mental health of the underage victims. Fourthly, the means the gang adopted were very cruel. The gang brainwashed and persuaded the underage girls to engage in prostitution. They supervised the girls on a one-to-one basis, and even scolded and beat them if they didn't obey," said Zhong.
The court also sentenced three defendants involved in another mafia-style crime to three to five years in prison and fined them a total of 190,000 yuan yesterday.
On the same day, Bao'an District People's Court also handed down a verdict on a mafia-style crime case. Defendant Li Zhengfeng was sentenced to four years and six months in prison and fined 100,000 yuan for committing the crimes of organizing a criminal syndicate, coercive business transactions, intentional injury, and picking quarrels and provoking troubles.
Since Jan. 23, 2018, Shenzhen courts at two levels have concluded 88 cases related to organized crime and local mafia, which involved 360 criminals, according to officials of the intermediate court.
Among them, one defendant was sentenced to life in prison, 37 were sentenced to fixed-term prison sentences of no less than five years, and one was sentenced to confiscation of all personal property. The confiscation of partial personal property and fines totaled 14.23 million yuan.