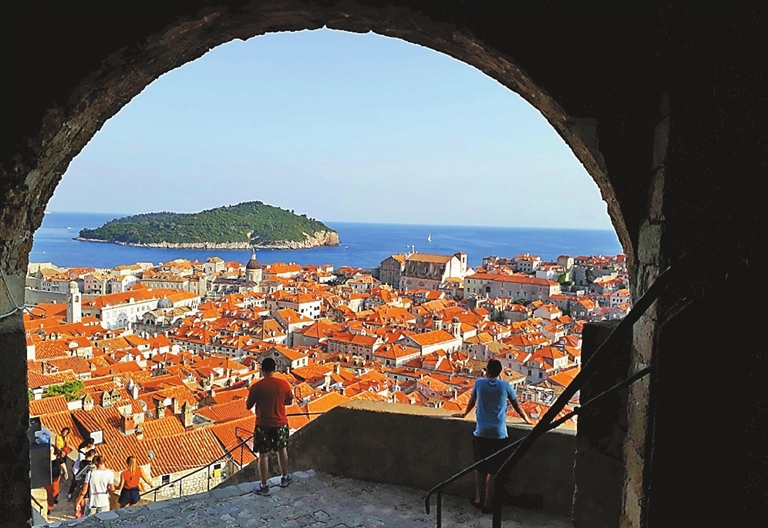 IN Central and Eastern Europe, the battle for international production shoots used to be a race to the bottom. Territories competed mainly on labor costs, and the cheapest workforce won. Things have changed. These days, the region is looking to partner with foreign producers by offering high-end production services and smart financial incentives to make shooting as simple (while still as cheap) as possible.
The Czech Republic, Poland and Estonia have followed Hungary's lead in introducing tax rebates to bring in foreign production and have buffed up their film promotion bodies to make shooting in and among territories nearly frictionless. No longer competing solely on price, the nations of Central and Eastern Europe now push their unique appeal — historical, cultural and geographical — as well as those tasty incentives, to pull in foreign shoots.
Here's everything you need to know about shooting in one of the world's busiest locations sectors.
Hungary
Under the leadership of the late, great producer Andy Vajna, Hungary was the region's pioneer, transforming its stodgy state-run film support system into a well-oiled production machine, as adept at attracting visiting big-budget tentpoles — "Robin Hood: Origins with Taron Egerton" and Jamie Foxx, Villeneuve's "Dune" reboot, the upcoming "Terminator: Dark Fate" featuring Linda Hamilton and Mackenzie Davis. Production spending in Hungary has topped US$400 million annually since 2016.
Vajna died this year, but the foundation he built remains. "Budapest, the capital that can stand in for Paris, Berlin, Moscow, Amsterdam, Vienna, London or Buenos Aires, is the most popular location to shoot films in continental Europe," notes Agnes Havas, CEO of the Hungarian National Film Fund, who points to a recent increase in Hungary's tax rebate systems (from 25 percent to 30 percent) as an indication that the country remains a go-to spot for visiting productions.
Czech Republic
The region boasts the winning formula of, as Czech Film Commission head Pavlina Zipkova puts it, a "mix of incentive scheme, quality of services, professional crews, modern infrastructure and rich locations."
The capital city of Prague has become something of a hub for international television productions, with the likes of Amazon Prime series "Carnival Row," History Channel's "Knightfall," Netflix's "Haunted" and ABC's "Whiskey Cavalier" shooting in the city. Series production accounted for around 65 percent of total foreign productions in 2018, with foreign TV series crews shelling out about US$140 million in the region.
They are pulled in, in part, by the country's incentive scheme, which combines a 20 percent cash rebate on local spend with a 66 percent rebate on withholding tax paid in the Czech Republic by the international cast and crew. Features have to spend a minimum of US$650,000 in the region to qualify, but there is no rebate cap per project.
Then there is the unrivaled beauty of Czech cities, from Prague, to Karlovy Vary, Pilsen and Kromeriz. "You can film 11 centuries of architecture and four distinct seasons, [and] Czech historic cities can double for major European cities such as Paris and London and many more," says Zipkova.
Croatia
"Among the international production community, Croatia is known for three things: location, location, location," says Tanja Ladovic, coordinator at location production service Filming in Croatia.
Perfectly situated on the border between Central and Eastern Europe, with a geography that includes Mediterranean coastlines and Alpine ranges and a history that stretches from ancient Greece through the Austrian-Hungarian Empire, communist Yugoslavia and, finally, European Union membership, Croatia can stand in for pretty much any nation from Italy to Germany, Russia to France.
In the BBC's "McMafia" series, Croatia played eight different countries. Even the iconic medieval city of Dubrovnik has shown its flexibility, playing Nottingham Castle in Otto Bathurst's 2018 release "Robin Hood," the casino city of Canto Bight in Rian Johnson's "Star Wars: The Last Jedi" and, most famously, King's Landing in eight seasons of "Game of Thrones."
Croatia introduced its first production incentive in 2012 and last summer boosted the cash rebate for visiting productions to 25 percent on local spending, adding another 5 percent for productions that shoot in less-developed regions. To qualify, producers have to show at least 70 percent of their financing to cover Croatian production costs is in place and meet a national points system, with at least 30 percent of the cast and crew made up of Croatian nationals. Minimum spending is US$296,000 for feature films and US$110,000 per episode of a TV series.
Poland
With the largest homegrown film industry in Eastern Europe, Poland has long been happy to go it alone.
"Today, Poland offers brilliant talents, especially in cinematography, film music, art direction and animation; hardworking and English-speaking crews, and producers with abilities and appetite for international ventures," says Radoslaw Smigulski, general director of the Polish Film Institute.
And Poland provides a wealth of top-end production facilities.
Producers looking to take advantage of the country's talents should find a local partner. To qualify, a least 75 percent of a film's total financing must be in place. Foreign films hiring Polish service companies have to spend at least US$540,000 in the region, while Polish co-productions have a minimum US$1 million spend. TV series spending US$400,000 per episode or more are also eligible, as are documentaries with budgets of at least US$100,000.
Estonia
Tiny Estonia (population 1.3 million) punches above its weight in the international production game, thanks to a laser focus on production services and incentives, as well the practical convenience that comes from being in a small, easily accessible country.
"All our locations — from islands and bogs and endless beaches to forests and historical manors to post-Soviet architecture with large, run-down factories, empty prisons and derelict buildings — can be reached within a maximum of three hours due to Estonia's small size," says Nele Paves, film commissioner at the Estonian Film Institute.
Estonia launched its first tax incentive in 2016, a 30 percent cash rebate on local spending for visiting international productions. The scheme is particularly attractive for low-budget features, with a US$225,000 local spend (on a minimum US$1.13 million budget) required to qualify. High-end TV dramas need a minimum local spend of US$80,000 per series on a minimum overall budget per episode of US$225,000.
In addition to the cash rebate, Estonia also offers production subsidies for Estonia co-productions: up to US$135,000 per film for majority Estonia productions and up to US$68,000 for minority co-productions.
(SD-Agencies)