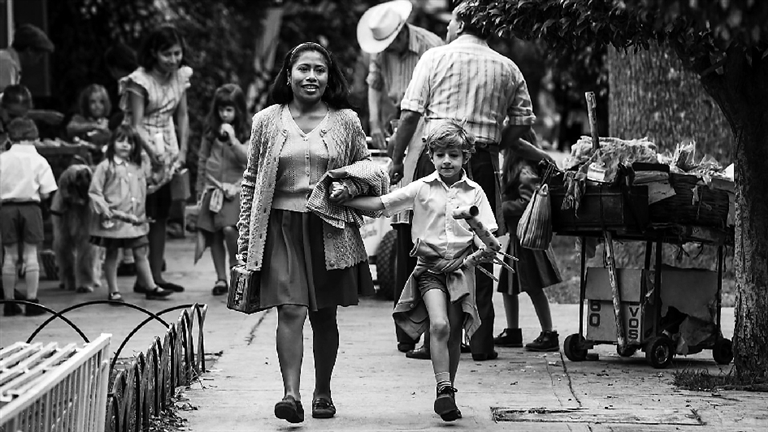 Starring: Yalitza Aparicio, Marina deTavira, Marco Graf, Deniela Demesa, Carlos Peralty, Nancy Garcia Directors: Alfonso Cuaron
BLESSED with an exceptionally acute sensitivity to the things of life, "Roma" is a memory film of unusual beauty that pushes to the foreground what is commonly left in the background.
Alfonso Cuaron's long-aborning, autobiographically inspired drama impressionistically re-creates the titular Mexico City neighborhood circa 1970-71, but concentrates less on kids than on the sometimes confounding behavior of the adults around them.
An immersive bath in some of the most luxuriantly beautiful black-and-white images you've ever seen, this is the work of a great filmmaker who exhibits absolute control and confidence in what he's doing.
He takes an unsentimental, unexpectedly dispassionate view of convulsive family issues, which are placed in the greater context of specific Mexican social matters and the march of time.
This immaculate drama from Netflix could score equally well with upscale art-seekers and general Spanish-speaking audiences.
Cuaron quickly sets the primary stage, a comfortable if chaotic home in the middle-class Roma district, where the writer-director himself grew up. There are four school-aged kids: three boys and a girl; energetic, always busy mother Sofia (Marina de Tavira), who's also a notably bad driver; a preoccupied doctor father who announces he's got to go to Quebec for a few weeks; and a large dog that leaves lots of poop in the driveway for the cars to collect on their tires. This obviously made a big impression on young Cuaron.
And then there are the two maids, Cleo (nonprofessional Yalitza Aparicio) and Adela (Nancy Garcia), who are simultaneously critical to the well-being of the often frantic family and almost invisible. These young women, who are of Mixteco heritage, tirelessly and quietly take care of the kids, shop, cook and clean up, but are also phantoms, young indigenous women of little education, less say-so and no visible roads out of subservience.
The film is built around situations rather than plot. There is talk of how a kid on the street was shot dead for throwing water balloons at cars; an odd musical band marches down the street; everyone goes to the Metropolitan movie palace; and poor Cleo, with no thought of birth control or saying no, passively becomes pregnant by an egocentric young thug who promptly vanishes.
Slowly and unexpectedly, "Roma" shifts decisively from the mother and kids to following the hapless travails of Cleo. Christmas brings a trip to the lavish country estate of very wealthy hunter friends that conjures up memories of Renoir's Rules of the Game. Among the unforgettable details here are the countless heads of the owner's dead dogs mounted on the lodge's walls.
As Cleo's due date draws near, the film's focus again turns away from the family as the clueless and unprepared young woman doggedly tries to track down her conscience-free seducer, a sequence of events that culminates in one startling scene after another. Almost out of the blue comes a re-creation of the shocking Corpus Christi massacre on the neighborhood's main street, a dreadful event at which paramilitary troops mowed down nearly 120 people.
Cinematically, Cuaron may have saved the best for last, a breathtaking single-take sequence of the family on holiday venturing into the ocean, a shot that laterals back and forth between beach and powerful surf, with the sun near setting in the background.
If one thing is missing in "Roma," it's the individuation of the family's children. They're always busy doing this or that, most often in groups and in motion, a swirl of young faces rather than kids who do anything to uniquely define themselves; you could pass the young actors on the street after seeing the movie and likely not even recognize them. In this sense, it's not much of a film about childhood or growing up but, rather, a portrait of two women whose lives are dominated by the same children.
"Roma" may not be the memoir film many might have expected from such an adventurous, sometimes raunchy, sci-fi/fantasy-oriented filmmaker, but it's absolutely fresh, confident, surprising and rapturously beautiful.
The movie is currently being screened in Shenzhen. (SD-Agencies)