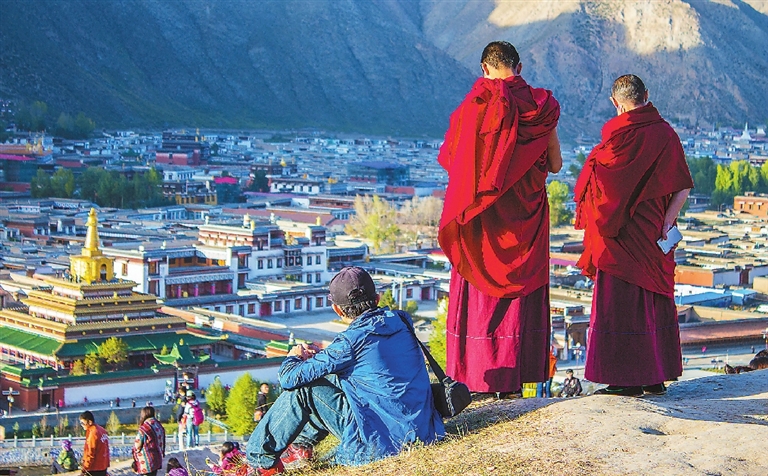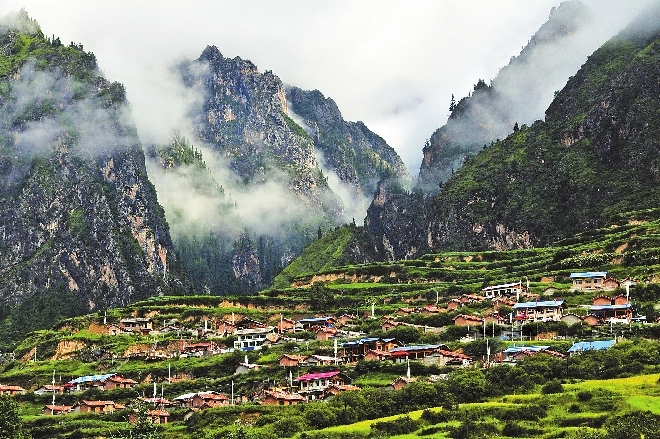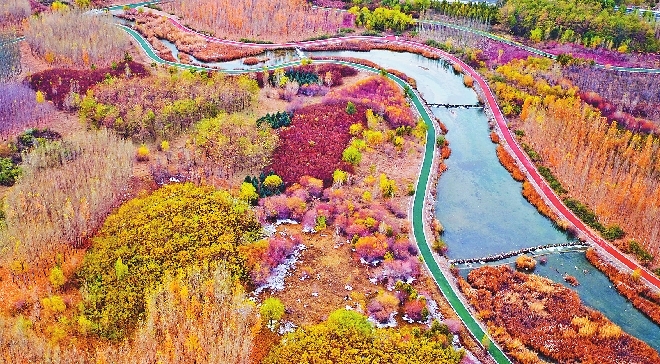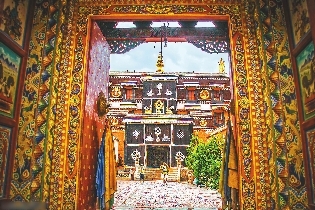 WHEN talking about Gansu, some people may only think of words like "remote," "vast" and "impoverished." However, in the eyes of expats, it has become a must-visit cyber-celebrity tourist attraction, a Shangri-La of sorts. After all, it has beat Kamakura in Japan and Raja Ampat in Indonesia to be rated as one of the top tourist attractions in Asia by Lonely Planet.
Gansu connects Shaanxi on the east, Xinjiang on the west, Sichuan and Qinghai on the south, Ningxia and Inner Mongolia on the north, and Mongolia on the northwest. With a long history and brilliant cultures, Gansu is abundantly endowed with cultural relics and natural scenery. Vast and graceful natural sceneries like endless desert and pure glacial landscapes present an impressive and breath-taking picture before your eyes.
Minle canola flowers
Every year in late July, the canola flowers in Biandukou start blooming, presenting a golden flower sea which links with vast green fields to form a glorious colorful carpet.
Biandukou is a pass standing at an altitude of over 3,500 meters. It links Minle County of Gansu in the north and Qilian County of Qinghai in the south. Biandukou has served an important role in history. The southern section of the ancient Silk Road enters Gansu from Qinghai via this place, the diplomatic official and dynastic emissary of the Han Dynasty (206 B.C.-A.D. 220) Zhang Qian also traveled through on his way to Xiyu (the western regions of China).
The seemingly never-ending sea of yellow blossoms which sprawl across farmlands, together with the snowy peaks in the distance, depict the splendid natural landscape of Xiyu in Gansu.
Zhangye National Wetland
Park
Located in the north part of the outskirts of Ganzhou District in Zhangye City, Zhangye National Wetland Park covers a wetland area of 62,000 mu (4,133 hectares) and plays a key role in maintaining the city's ecological balance.
Lying in the middle of Hexi Corridor, Zhangye City is a basin with flat terrain. Nearby Zhangye National Wetland Park consists of rivers, swamps, wet meadows, artificial lakes, ponds and ditches. The park is home to 195 species of plants and 116 species of wild animals. It's also an important stop for one of the three bird migration routes in western China.
Zhagana
The houses hidden among mountains, the stars and the moon hovering above the mountain peak, the mysterious sound of Tibetan floating to your ear ... In Zhagana, a paradise-like place in Gansu, it's hard to tell reality from a dream.
Zhagana is a mountainous region on the northeastern rim of the Tibetan Plateau, with an average altitude of 3,500 meters. The region has a unique cultural and natural landscape featuring Tibetan-style villages, primitive forests and mountains formed long ago.
The word Zhagana means "stone box" in Tibetan. Its terrain looks like an ancient yet grand palace, built from natural rocks. Cloud-covered mountains only enhance the beauty of the stony landscape.
The slow-paced and tranquil local life here emanates peace. In addition, there are many mouth-watering local delicacies including the best match of mutton shashlik and highland barley wine.
Labuleng Temple
Labuleng Temple is located one kilometer west of Xiahe County. Labuleng Temple, together with Zhebeng Temple, Sera Temple, Gandan Temple, Zhashenlunbu Temple and the Ta'er Temple in Qinghai, are called the six big temples of the Gelu school of Tibetan Buddhism. Its size is second only to that of the Potala Palace.
Labuleng, pronounced "lazhuang" in Tibetan, means "the palace for the Buddha." It was built in the 48th year of the reign of Emperor Kangxi in the Qing Dynasty (1644-1911), and it started construction in 1709. There are 18 blocks of resplendent gold and jade-green palaces.
Upon arriving at a temple, the Tibetan food is a must-try. Drink a mouthful of mutton soup, take a bite of mutton, take a sip of highland barley wine, and try the special local rice. If it is summertime, the famed Tibetan yogurt may also be on offer.