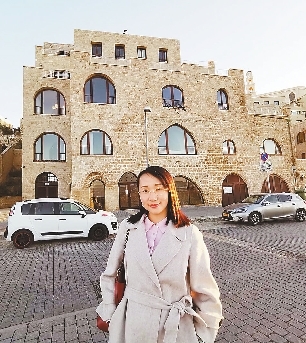 Yuan Wu, Southern University of Science and Technology (School of Medicine)
On February 2, 2019, Chinese New Year's Eve, my husband and I started the trip from Hong Kong International Airport. After an 11-hour flight, we arrived in Israel on February 2 at 6 a.m. local time. It was a Saturday, Sabbath Day for the Jewish people.
There is no public transportation on that day, so we could only take an expensive taxi to get to the hotel, thus we began our six-day trip to Israel.
The most famous city of Israel is undoubtedly Jerusalem, but I prefer to introduce another two historical cities including Yafa and Akko.
Yafa, which has a long history of 5,000 years, really gave us a different feeling. The sea is particularly wide open and is not as crowded as the beaches in Shenzhen. Although you are not able to go down to the sea, you can hear the loud sound of the waves pounding on the beach.
The most famous site of Yafa is the bell tower, which is the landmark, since Yafa is a city built on a mountain. I can see that there are surprises all over the place, and if you go up to the hill, you can find many statues, hotels, restaurants and art shops.
Akko is in northern Israel, which has the same long history as Yafa, but whereas Yafa is built on a mountain, Akko is a city built underground. Akko is known as the first World Heritage Site in Israel.
You can see a lot of Turkish architecture here, including castles and mosques.
Akko is also the capital of the Kingdom of Jerusalem and has well-preserved Crusades sites such as Crusade Hospital. There are also antique and art treasures to be found. The tour guide talked for about two hours, since he grew up in Akko, so he is very familiar with the history of the whole city.
There are even Chinese signs, and many of the attractions in Israel have Chinese introductions. Many tunnels are short, and one has to bow to get through. Probably because Akko is not as famous as Tel Aviv, the seaside of Akko is different from the ancient city of Yafa. There are less people, so it is particularly quiet.
Sitting alone by the sea, enjoying the waves, or fishing can allow one to be completely relaxed. This is a city famous for pomegranates and pomegranate juice. A cup of pomegranate juice costs 15 shekels (1 shekel is equal to 1.6 yuan).
There are also Turkish bathhouses. With an authentic soundtrack, original depictions and sculpted figures, we could look back on people's everyday life. The bathhouse is not only a place people can talk but where they can also do business.
Through these two old cities we can see the beauty and secrets of Israel.