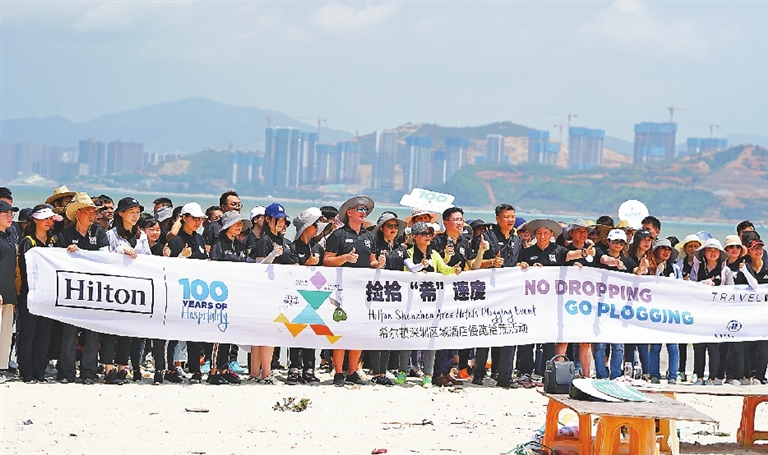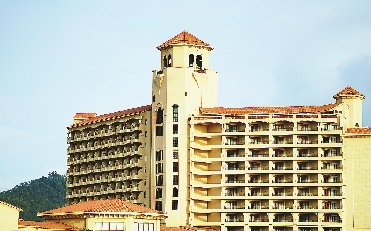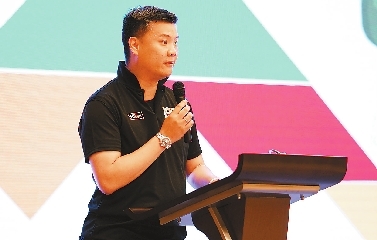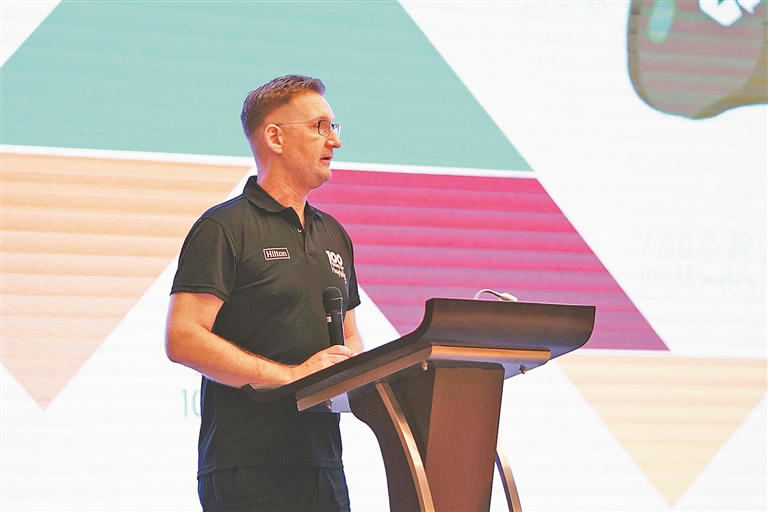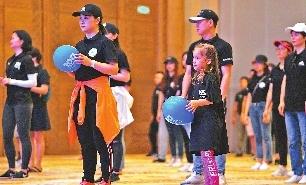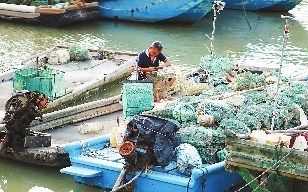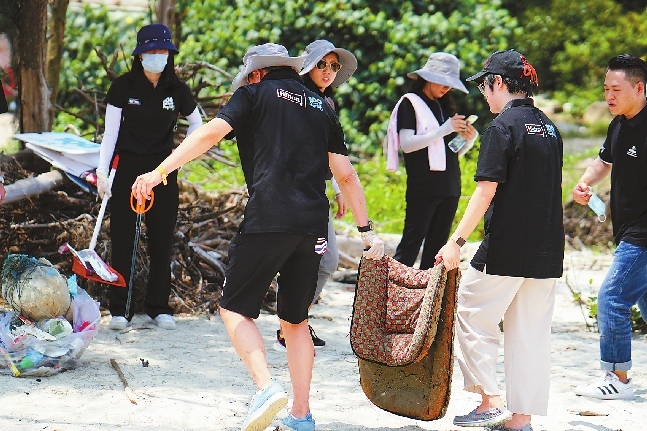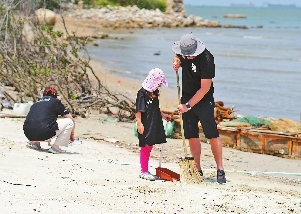 Wang Haolan
Holly_cn@163.com
PLOGGING, a rising new workout trend with a name derived from the two Swedish words "plocka up" and "jogga" in which participants pick up trash as they jog, was chosen by Hilton Shenzhen Hotels as the central activity for marking their 100th anniversary as a leading hospitality brand.
The plogging event was held on Sunday at Xunliao Bay, Huidong County in Huizhou and attended by nine Hilton properties, namely Hilton Shenzhen Futian, Hilton Shenzhen Shekou Nanhai, DoubleTree by Hilton Shenzhen Longhua, Hilton Garden Inn Shenzhen Bao'an, Hilton Huizhou Longmen Resort, DoubleTree by Hilton Huidong Resort, Hilton Zhongshan Downtown, Hilton Garden Inn Zhongshan Guzhen and Hilton Garden Inn Zhuhai Hengqin, together with 11 media outlets.
The public beach with excellent sea views is picturesque, albeit burning hot at noontime, and was soon looking smart after having most of its beach litter cleaned up. The participants were divided into six groups to enhance efficiency, and thanks to that, large items such as a mattress and woven bags were collected within an hour's time.
One of the participants was astounded to find a Panama hat in excellent condition among the rubbish, priced at 20 yuan (US $2.8) in a beach shop.
When asked why they chose to hold a plogging event to mark the 100th anniversary of Hilton, general managers with Hilton properties in Shenzhen answered with the phrase "corporate social responsibility" in unison.
"We have a responsibility to the local community and to nature. Besides eradicating all the single-use plastics in our hotels, we also propel the local communities, especially the resorts, to say no to the plastics and also clean up the ocean where all the plastics end up," said John Burger, the area general manager of Hilton Shenzhen Hotels, adding that the plogging event was initiated by his former executive team on seeing plastic scraps in the sea during a morning walk.
Fredrik Johansson, general manager of Hilton Shenzhen Futian, saw the event as a good opportunity for Hilton Shenzhen Hotels to join hands in the protection of the beautiful Xunliao Bay.
"It's really a great thing for the community that we are doing something for it. The plogging event really falls well together with our corporate social responsibility, with our belief in promoting sustainability overall as a company, and with our pursuit, as individual people, in doing our bit to improve the environment and save the world," he said.
Robert Tong, general manager of DoubleTree by Hilton Huidong Resort, attributed much educational and social value to the plogging event and its sideline activities.
"As a hospitality brand with 100 years of history and over 5,700 properties across the world, we should and we have to take responsibility for our environment and community. Therefore, to mark May 31 as the Hilton's 100th birthday, we are holding an array of educational events teaching children the importance of an immaculate sea environment, and a flea market collecting money for a Shenzhen-based coral management company," he said.