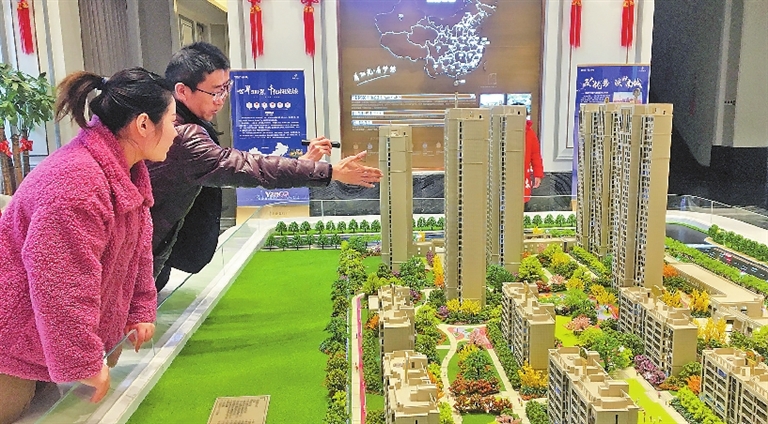 SONG JINGYI, a paralegal from a family of modest means in the central province of Henan, had long dreamed of buying a home of her own in Zhengzhou, the sprawling provincial capital of 10 million where she attended college.
But high prices, and hefty downpayment requirements, meant that dream stayed tantalizingly out of reach.
Zhengzhou's property market exploded in 2016. While the resulting price surges were a new source of wealth for many in the city, they also excluded people like Song, who is 25 and has plans to marry her long-term boyfriend.
Last November, however, Song was presented with a tempting opportunity: a deal offered by a developer to circumvent the usual 30 percent downpayment on an apartment by borrowing the up-front payment itself.
The offer was a risky one for a developer — and a warning sign that the market in Zhengzhou was hitting a wall, caught up in the country's slowest economic expansion in nearly three decades.
After two years of breakneck growth, property markets in provincial cities like Zhengzhou finally reached a turning point in late 2018.
Despite the warning signs, Song paid one-third of the usual down payment as deposit on a two-bedroom flat on Zhengzhou's outskirts.
However, Song soon noticed that prices were dropping at some developments.
She had longed for a taste of the middle class lifestyle her friends were flaunting with their apartments packed with consumer goods. But she also didn't want to buy into a bubble that looked set to pop.
She decided to pull out, ultimately filing a lawsuit to get her deposit back.
"I felt that everyone around me had a house and I felt so much pressure from my peers," Song said. "In many ways, that was an illusion of false prosperity."
Long a quiet provincial capital, Zhengzhou has thrived in recent years thanks to its position as a transport and logistics hub. Taiwan's Foxconn operates a factory in the city employing 230,000 people making Apple iPhones for the world.
And, for two years, the property market boomed.
Zhengzhou's property market took off when the government eased borrowing and credit restrictions in 2015 and 2016, setting off a nationwide home-buying frenzy.
Attracted by cheaper prices in interior provinces like Henan, buyers from across the country piled into Zhengzhou, many paying in full, in cash, to secure flats that often sold out within minutes.
But in September last year, the Zhengzhou property market deteriorated rapidly, according to sales agents. Unsold property inventory in Zhengzhou rose 26.5 percent last year, compared to a 26.9 percent decline in 2016 at the peak of the boom.
Nationally, property sales by floor area grew 1.3 percent in 2018 from a year earlier, down from an increase of 7.7 percent a year earlier.
In Henan, the growth slowdown was more dramatic: down to 5.1 percent last year, from 17.8 percent in 2017. Henan's real estate investment fell for the first time in 2018.
The effects of the slowdown in Zhengzhou have been felt by people like Zhang Chenxuan, who has run an interior design business in the city for seven years. Since last year, his income has shrunk by 20 to 30 percent as orders from new home buyers fell, he said.
"Clients nowadays only want something practical and simple that saves money instead of going for the luxurious," Zhang said as he fitted out a client's new apartment.(SD-Agencies)