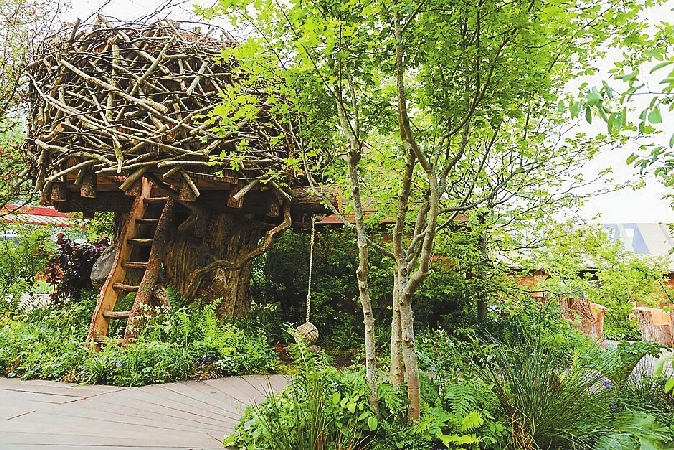 THE RHS Chelsea Flower Show is the most prestigious horticultural event in the world and each year, the gardens at the show give us inspiration to take home and recreate in our own outdoor spaces.
For 2019, green roofs, dramatic boulders and mini forests are the hallmarks of this year's show. Here are the biggest trends, as seen in gardens designed by members of the Society of Garden Designers, including Andy Sturgeon, Tom Hoblyn, Jo Thompson and many more.
1. Natural landscape
The natural landscape is a major influence in gardens of all sizes this year. Joe Perkins imagines the ever-changing coastal landscape using naturalistic seaside planting including Agapanthus, Sea Kale and the Australian Cushion Bush, while Tom Hoblyn takes inspiration from the wind-blown sand dunes of arid landscapes for his Middle Eastern garden. In Sue Hayward's artisan garden, the designer has created a haven for wildlife.
2. Woodland gardens
Woodlands and forests abound at this year's Chelsea Flower Show, suggesting that we'll be seeing a lot more domestic woodland gardens in the future, including mini forests in smaller urban gardens.
Aside from Kate Middleton's Back to Nature garden, most notable is the Resilience Garden designed by Sarah Eberle, which showcases the "forests of the future" by using trees that are resilient to climate change. Andy Sturgeon has also chosen a woodland landscape, colonizing it with young trees, ferns and jewel-like flowers; while Andrew Duff has created a sustainable woodland clearing featuring bio-
diverse trees that celebrate the environmental benefits of woodlands.
3. Architectural frames
A wonderful way to draw the eye to different parts of the garden, frames created by architectural forms such as pergolas are an easy way to add a little bit of trendy touch to any garden. Jo Thompson's garden is dominated by a striking classical colonnade guiding the visitor through it by offering ever-changing framed views, each with a different perspective on the landscape that has been created, while Tom Stuart Smith has incorporated two large steel frames to create a sense of containment and drama in his large, contemporary garden.
4. Rocks
Rocks are big at this year's RHS Chelsea, a trend easily replicated at any scale to add drama to gardens big or small. Going big, Jilyane Rickards has included huge red boulders, roughly hewn and balanced on top of one another in her African-inspired garden, while Andy Sturgeon's garden features a staircase of vast English ironstone platforms and Joe Perkins includes dramatic rock formations inspired by the coast. Sarah Eberle also incorporates large lichen-covered boulders to punctuate her woodland setting.
On a smaller scale, Tom Hoblyn uses burnt sienna gravel on his paths to mimic the eroded rocks of an arid landscape, and for a more structured look, Helen Elks-Smith has designed a pavilion made of traditional dry stone walling alongside a rustic limestone water trough.
5. Living roofs & walls
Leaving no space untouched, the growing trend for green roofs and walls is evident on gardens large and small at this year's show, including Helen Elk Smith's garden for Warner's Gin which features a vibrant living roof of Sedums, Euphorbias and Thyme; and Andrew Duff's garden featuring the largest green wall ever seen at RHS Chelsea planted with a mix of ferns, grasses, ivies and herbaceous flowering plants.
With outdoor space at a premium, vertical gardens are a wonderful way to incorporate greenery into any garden, especially in urban areas.
(SD-Agencies)