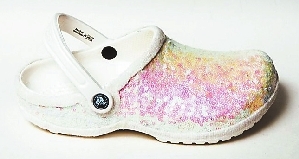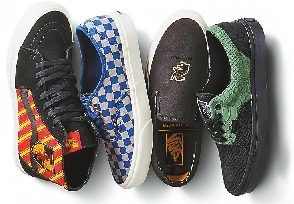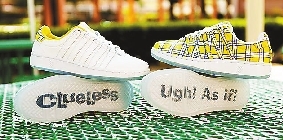 1. Crocs for a bride
Wedding planning is stressful. From finding the perfect dress to figuring out the best seating chart that won't end in a dramatic fight, the bride-to-be has a lot to deal with before her special day. Plus, all of that in heels? Blister city. What if you could wear a shoe that is technically for weddings and is also extremely comfortable? It's actually here: Crocs for a bride.
They match perfectly with a fairytale wedding or a series of interesting choices. At the very least, the DJ can wear them, because it's hard to play Bruno Mars for three hours while standing.
2. Vans for Harry Potter fans
What do you wear if you're a Hogwarts-loving witch in 2019? Vans, apparently.
The shoe company dropped the first sneak peek at its brand new Harry Potter collection a few days ago. The shoes are inspired by the four Hogwarts houses, and each gets its own classic Vans silhouette too: "a Sk8-Hi for Gryffindor, an Era for Slytherin, Authentic for Ravenclaw and the Classic Slip-On for Hufflepuff," says a company press release.
3. 'Clueless' sneakers
The popular '90s movie "Clueless" and sneaker brand K-Swiss have teamed up for a nostalgic new collection of kicks.
The capsule includes two different colorways that both nod to Cher Horowitz's iconique skirt set. One features the flashy yellow-plaid print on the outside, and honestly this would have looked great as a completion to Cher's original outfit. The other is more subtle with the pattern on the inner liner of the shoe and a mostly clean, white outer leather look. The best part is that both pairs have the film's original logo on one sole and the words, "Ugh! As if!" on the other one.
(SD-Agencies)