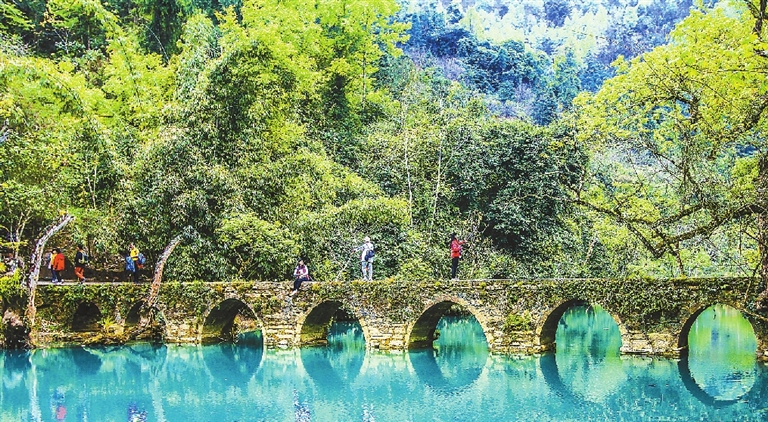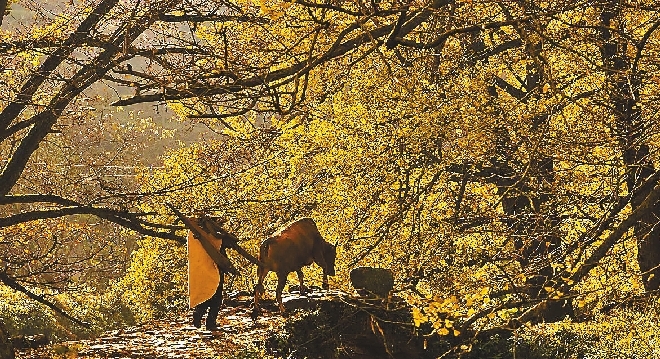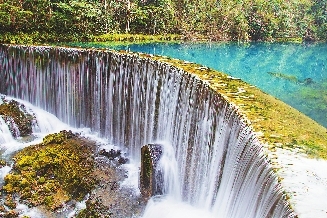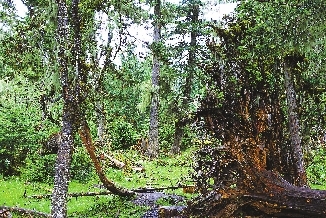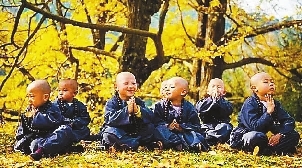 IN China, a vast country with astonishingly different and spectacular landscapes, Guizhou plays a low-profile role and is seldom included on most people's must-go list. Located in the southwestern part of China, it may not be as attractive as Yunnan in terms of artistic feel or as Guangxi regarding striking landforms. However, it is held dear by the more informed travel enthusiasts and shutter bugs for the fact that it is home to a number of historic and beautiful sites: "Brahma's pure land" Fanjing Mountain; Wanfenglin — or the 10,000 Peak Forest — with misty falls and geologic wonders; Huangguoshu Waterfall, which is one of the largest waterfalls in China and East Asia; Maling River Canyon, which is nicknamed "a beautiful scar upon the Earth"; and "Golden Sea and Snow Mountains," one of the top 10 most beautiful canola flower fields in China, just to name a few.
Libo Xiaoqikong Scenic Zone
"Xiaoqikong" literally means "seven small holes" in Chinese. The scenic area got its name from an ancient stone bridge supported by seven arcs in its northern part that was built in 1836. Nicknamed "an emerald on the waistband of the Earth," the scenic zone is a unique wonderland for sure.
The 12-kilometer-long Xiaoqikong Scenic Zone is highly reputed as a life-size miniature garden. Visitors will marvel at the spectacular sights of the ancient stone bridge from which the attraction got its name, a 68-layer waterfall called Laya Waterfall, Guibei Mountain and Yuanyang Lake, as well as the water forest. The water forest provides great views of the bizarre plants that grow in the water.
Add: 5 km from Daqikong Scenic Zone. It's hidden among the mountains over 30 km to the south of Libo County 荔波县城南部30余公里的群峰之中,距大七孔景区5公里
Best time for traveling: Summer, especially July and August
Maolan Karst Forest
In Libo, a place full of World Natural Heritage Sites, Maolan Karst Forest is the real champion in the eyes of local citizens. Apart from the folk houses at the foot of the mountain, there is basically no other trace of the man-made. The place was once rated by Chinese National Geography as one of the "top 10 beautiful forests in China."
Located in Libo of southern Guizhou Province, the reserve is covered by a lush virgin forest and the largest subtropical virgin forest in China. It covers an area of over 130 square kilometers with forest coverage of 91.59 percent.
"If aught dropped upon the road, no one picked it up, nor were the doors of houses locked at night." This is the comment made by most people who have visited Maolan. Here the affects of commercialization are hard to find. It's a place where you can feel the primitiveness of nature, a palace for outdoor sport lovers.
Add: Inside Libo County, Qiannan Buyi and Miao Autonomous Prefecture, Guizhou 贵州省黔南布依族苗族自治州荔波县境内
Best time for traveling: Spring and summer
Tuole Village
Tuole is a small ancient village with a mysterious air. It is characterized by the ever-present sound of gurgling water, its ancient trees, quaint bridges, rainbows emerging from mist in the brooks, strange-shaped peaks, and a temple. Most notably, the whole village is hugged by ginkgo trees.
Tuole Village was named "China's most beautiful ginkgo village" by the Chinese Society of Forestry in November 2017. It is a 4A-level scenic spot in Panzhou County with a long history. Tuole is home to the best-preserved ancient ginkgo trees with the world's highest growth density. The oldest tree is about 1,500 years old.
In spring, the ginkgo trees are covered with verdant leaves. Starting from October, the golden color gradually takes place of the greenness and turns the whole village into a golden fairytale.
Apart from the world-class ancient ginkgo trees, the village is also home to the thousand-year-old Xilai Temple in which resides a group of child monks who recite scriptures and sit in meditation with their masters.
Add: Shiqiao Town, Panzhou County, Guizhou 贵州省盘州县石桥镇
Best time for traveling: Autumn, especially from late October to late November
(Chen Xiaochun)