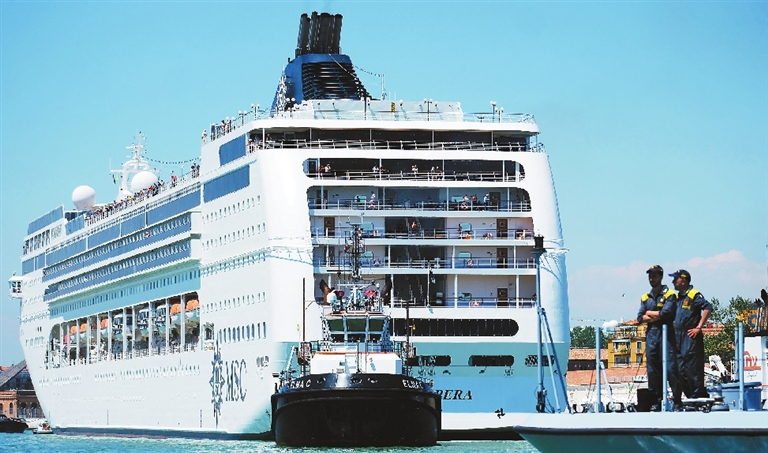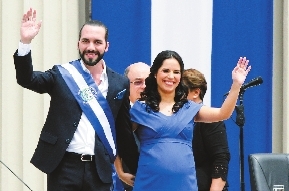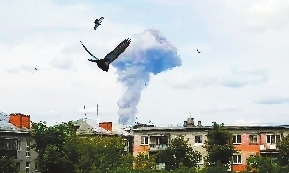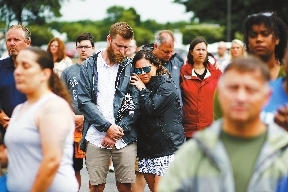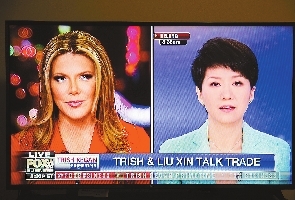 Huge cruise ship plows into tourist boat, dock in Venice
The cruise ship MSC Opera loses control and crashes against a smaller tourist boat at the San Basilio dock in Venice, Italy, on Sunday. Italian media reported that at least five people were injured in the crash. The collision happened at about 8:30 a.m. on the Giudecca Canal, a major thoroughfare that leads to Saint Mark's Square in the northeastern Italian city.SD-Agencies
Nayib Bukele sworn in as president of El Salvador
Conservative businessman Nayib Bukele took office on Saturday as president of El Salvador, tasked with turning around the grinding* poverty and rampant gang violence that are sending thousands fleeing to the United States.
Bukele was sworn in by the speaker of the National Assembly in a square in downtown San Salvador, as a large, boisterous* crowd applauded and shouted "We did it!"
The telegenic* Bukele, 37, was elected in February to succeed Salvador Sanchez Ceren, a leftist former guerrilla* who maintained close relations with his Nicaraguan and Venezuelan counterparts.
Blast at Russian explosives plant injures 79
A blast at a major explosives plant in central Russia on Saturday injured 79 people and damaged nearly 200 buildings nearby, local officials told Russian news agencies.
The explosion happened at the "Kristall" factory in Dzerzhinsk about 400 kilometers east of Moscow, in the Nizhny Novgorod region.
A local health ministry official quoted by the TASS news agency said 79 people had suffered light or moderate injuries, a huge increase on the initial figure of 19.
Police search for motive in US shooting that killed 12
U.S. police in Virginia searched on Saturday for the reason why a city engineer fired indiscriminately* on his workplace colleagues, turning a municipal building into a war zone as he killed at least 12 people and wounded four before being fatally shot himself.
Authorities named the gunman in Friday's attack as DeWayne Craddock, who news reports said was 40 years old.
To focus attention on the latest victims of America's gun violence epidemic, officials said they would not pronounce his name again in public.
CGTN, Fox anchors discuss China-US trade issues
CGTN anchor Liu Xin joined Fox Business Network host Trish Regan on her primetime show for a live television discussion on China-U.S. trade issues on Thursday.
It is the first time that television hosts from China and the U.S. have faced off live. The much-anticipated event has sparked widespread attention from media across the world.
US requests visa applicants to provide social media info
The United States is now requesting nearly all visa applicants to submit their social media information in stepping up the security screening of prospective immigrants and travelers.
The additional information for the background scrutiny include social media usernames, email addresses and phone numbers used in the previous five years. Visa applicants also have to report international travel and deportation status during the same period, as well as whether their family members have been involved in terrorist activities.(SD-Agencies)