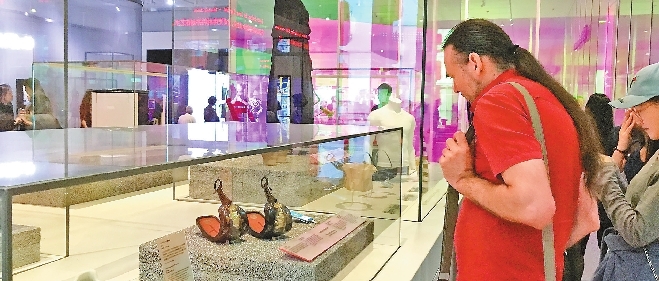 TO communicate the values of design and demonstrate the power of design, Design Society in Shenzhen and the Victoria & Albert Museum (V&A) in Britain have announced an open call for nominations for objects to appear in the next exhibition at the V&A Gallery inside Sea World Culture and Arts Center in Shekou, providing the opportunity for the public to participate in the curatorial process.
"Values of Design," the inaugural exhibition of the V&A Gallery which opened in late 2017 and is running until Aug. 4, features over 250 objects, dating from A.D. 900 to the present and originating from 31 different countries to frame a global debate about how design is valued and how values shape design.
"Values of Design in China," a new exhibition opening later this year and inspired by the "Values of Design" exhibition, will bring together selected objects from Design Society and members of the public, in an experiment in exploring the values and meaning of design in China.
"'Values of Design in China' will review the historical milestones in the development of Chinese design, explore the key values behind Chinese design and how design forms various cultural phenomena and daily life in China," said Zhao Rong, deputy director of Design Society.
Submissions can be received via Design Society's Weibo account or official email.
When you select your submission, you may think over which designs have changed your everyday life, which designs speak to the Zeitgeist today or which designs can help us create a better future.
Examples of everyday Chinese designs that appeared at the ongoing "Values of Design" exhibition are a Shenzhen school uniform, the WeChat app, a DJI drone, Chinese porcelain recycled into aluminum tiles, and a mobile phone for the elderly.
Requirements:
1. The object should be strong representative of at least one design value or value statement. This can follow the seven values (performance, cost, problem solving, materials, identity, communication and wonder) in the "Values of Design" exhibition, but we also encourage the nominator to select their own personal reason for valuing an object.
2. The object is either made in China or widely used/popular in China.
3. Ideally, the object should be sourceable and easy to find, purchase or borrow.
How to submit:
Post on Weibo an introduction of one paragraph and images of your submission and @深圳海上世界文化艺术中心, with a tag #设计的价值在中国# or send in an introduction of one paragraph and images of your submission to info@designsociety.cn, with the email title: Submission for "Values of Design in China." Deadline for the open call is June 30.
Once admitted, the submissioner will receive a certificate of participation, a Design Society membership card, a video clip of the submission and one Design Society publication.
(SD News)