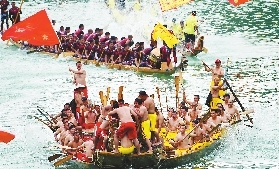 DRAGON boat racing, a traditional activity celebrating Duan Wu, also known as the Dragon Boat Festival, is enjoying a revival thanks to the popularity of rowing events and cultural tourism.
The sport originated in Zigui county of Yichang city in Hubei Province. This was home to Qu Yuan, a poet in the Warring States Period (475-221 B.C.). The festival, allegedly, commemorates his death.
Over 2,000 years the race has developed into a sports event. It has now attracted younger generations — college students, for example — to join, breathing new life into the historic custom.
Zigui was named as the "hometown of the Chinese dragon boat" by the General Administration of Sport back in 2011 for its well-preserved boat racing traditions and involvement in organizing rowing competitions.
The county, rich in history and folk customs, has been developed into a popular destination for travelers. In 2017, Zigui was honored as one of China's most beautiful filming locations at the 74th Venice International Film Festival.
The county also registered a travel boom last year with about 9.4 million tourists having visited and 13.3 billion yuan (US$2 billion) of tourism-related revenue created, according to the county-level government.
Dragon boat racing has also gained global popularity and helps promote exchanges among countries.
For example, the annual dragon boat race held in Nanning, capital city of Guangxi Zhuang Autonomous Region in South China, has attracted more international participants, especially from Asian countries in recent years.
This year's event fell on June 7 and 60 teams from home and abroad participated. Professor D. R. Nurdin Purnomo, president of the Indonesian Dragon Boat Racing and Canoeing Association, has brought Indonesian dragon boat sprinters to Nanning since 2015.
He said people hold dragon boat races in his country, especially among Indonesian Chinese communities.
According to Purnomo, whose ancestral home is Meizhou, Guangdong Province, most of the people in his team are Indonesian Chinese. "I would like to give them a chance to see how China has developed and changed," he said.
(China Daily)