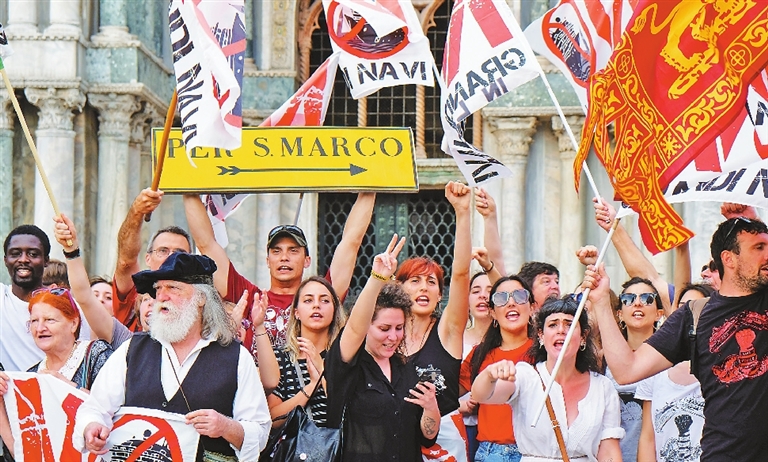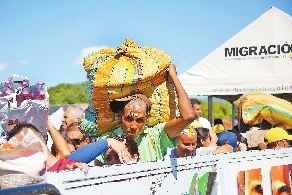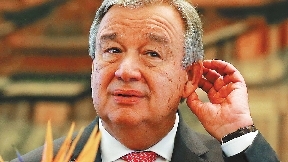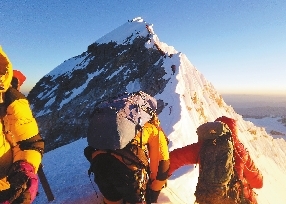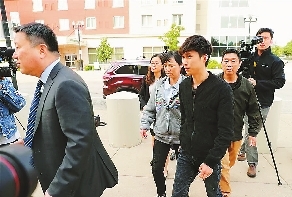 Thousands protest against cruise ships in Venice
Demonstrators of the "No Grandi Navi — No Big Ships" protest in St. Mark Square against the passage of cruise ships in Venice, Italy, on Saturday. Thousands of people took to the streets in Venice on Saturday calling for a ban on large cruise ships in the city following last week's collision between a massive vessel and a tourist boat.SD-Agencies
Thousands of Venezuelans cram border with Colombia
Several thousand Venezuelans, desperate for food and medicine, packed a border crossing to Colombia on Saturday, hours after President Nicolas Maduro partially reopened it.
Maduro had the day prior ordered the reopening of the Venezuelan border in the western state of Tachira, near the location in Colombia where the international community had amassed humanitarian aid that Maduro's government refused to take.
Early Saturday, thousands of people rushed to the border bridges between the two countries, and crowds in long queues stretched throughout the day.
UN chief may sell residence to ease budget crisis
U.N. chief Antonio Guterres told world diplomats last week that he considered selling his Manhattan townhouse to help the global body overcome a crippling* budget crisis.
Guterres put forward proposals to address a US$1.5 billion shortfall in the U.N. peacekeeping budget and a US$492 million hole in its regular budget from unpaid contributions by member-states. "The first thing I did when I arrived was to ask if I could sell the residence," said Guterres, who became secretary-general in January 2017.
Nepal looks to limit access to Qomolangma
Under pressure after a deadly season on traffic-clogged* Mount Qomolangma, Nepal is considering tightening access to the world's highest peak, but mountaineering experts fear the proposed changes could amount to little more than lip service*.
Eleven people died during the climbing season that ended this week, as record numbers lined the route to the summit. Although overcrowding was blamed for at least four deaths, many say inexperience is a bigger killer.
Trial of Zhang Yingying's case begins
The trial of Brendt Christensen, accused kidnapper and killer of visiting Chinese scholar Zhang Yingying in 2017, began last week at a Federal courthouse in Peoria, Illinois, the United States.
Zhang's father, mother and her younger brother all appeared at the court before 9 a.m. The first trial day started with choosing potential jurors from the first panel of 16 people.
Tokayev wins Kazakhstan election
The hand-picked* successor of Kazakhstan's longtime leader won a sweeping victory in a presidential election.
Kassym-Jomart Tokayev took 70.8 percent of the vote in Sunday's election, the Central Election Commission said on Monday, well ahead of his nearest rival, opposition candidate Amirzhan Kosanov on 16.2 percent.
Sunday saw hundreds of arrests after the biggest protests in Kazakhstan in at least three years, as demonstrators urged a boycott of what they said was a fixed election.
(SD-Agencies)