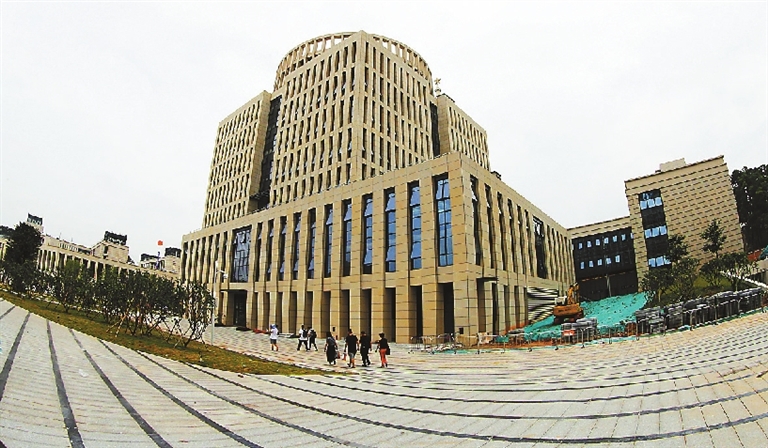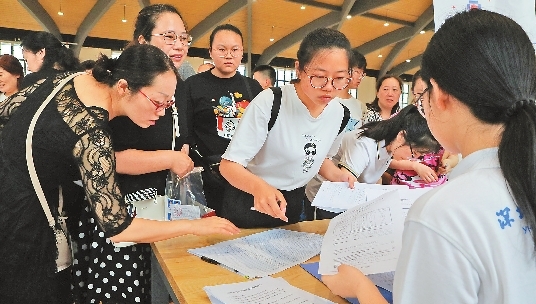 Zhang Qian
zhqcindy@163.com
THE campus of Shenzhen MSU-BIT University (SMBU), featuring prominent Russian architecture with a star-capped main building as its landmark, was opened to the public for the first time yesterday, drawing thousands of people from Shenzhen and other cities to take tours.
The university is a collaborative project agreed to President Xi Jinping and Russian President Vladimir Putin. It is a higher education institution with an independent legal entity jointly established by Shenzhen Municipal Government, Lomonosov Moscow State University and Beijing Institute of Technology.
The campus, located near the entrance of Shuiguan Expressway in Longgang District, will be ready to be put into use by July, according to Dai Songtao, an engineer from Shenzhen Works Bureau who is in charge of the construction project.
"The university campus features strong Russian architecture, while all of the interior design and landscaping around the campus take on a Chinese style, which symbolizes the joint development between the two cultures," he said.
According to Dai, the campus covers an area of 330,000 square meters with buildings covering a floor space of around 290,000 square meters. The Shenzhen city government spent about 2 billion yuan (US$28.93 million) on building the campus.
There are 2,900 rooms to accommodate students and teachers. Three types of dormitories, including single-bed, two-bed and four-bed rooms, are available for Ph.D., graduate and undergraduate students, respectively.
According to Dai, most of the construction work has been finished and they are currently connecting the electricity and water. All existing students, teachers and staffers will move to the campus from a nearby transitional campus in July.
Among the visitors that toured the campus yesterday, many are applicants for this year's enrollment who come from cities around China.
More than 1,300 high school graduates from across China, standing out among more than 3,000 preliminary applicants, will sit for the university's independent admissions exam today. SMBU will enroll 180 undergraduate students this year.
The exam is also an admissions exam for Lomonosov Moscow State University, as graduates of SMBU will receive graduation certificates from both universities, said Zhao Hao, head of the university's admissions office. The university will take in 25 international students this year. The current overseas students at SMBU are mainly from Russia, Kyrgyzstan, Kazakstan and France. The university hopes to raise its international profile to enroll more overseas students, according to Alexey Tarasov, vice rector of SMBU.
"We are very pleased to see what the university achieved in the past two years since its establishment and we believe that students graduating from this university will become valuable talents for both countries, as well as for Shenzhen," Tarasov told the Shenzhen Daily yesterday.
The university is a significant move to strengthen China-Russia strategic relationship, said Lu Wanwei, Party chief of the university. Lu said that the university will make further efforts to deepen the relationship between the two nations through cultural and educational projects.
A joint statement by Xi and Putin on June 5 during Xi's state visit to Russia particularly urged SMBU to cultivate innovative talents with high-quality teaching resources and exchange projects.