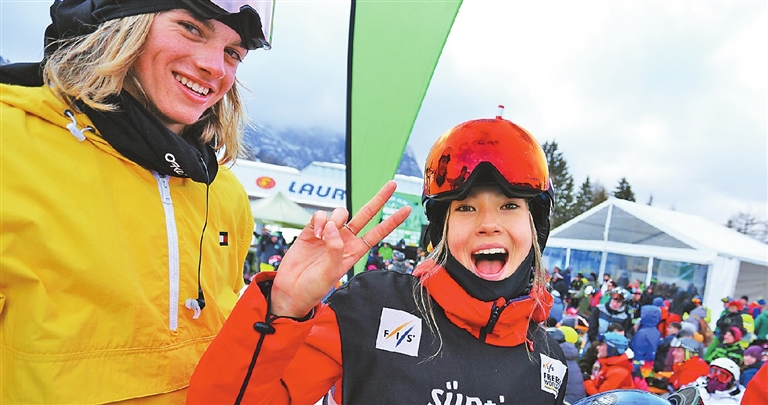 Eileen Gu, a 15-year-old former U.S. skier, announced on Weibo that she is officially a Chinese citizen in early June. She decided to compete for China in the 2022 Winter Olympics in Beijing. According to Tencent Sports and Sina Sports, Gu is the first naturalized skiing athlete in China.
"Hello, my name is Eileen Gu and I am a Chinese freestyle skiing athlete," wrote Gu on Weibo with a screenshot of her information on the International Ski Federation (FIS) showing that her nationality is already Chinese.
While the Olympics allow athletes with dual citizenship to choose which country to represent, Gu is required by Chinese law not to keep her American nationality because China doesn't recognize dual nationality.
"I feel that I am competing in skiing to unite two nations, both of which are my home," Gu told Inkstone through Instagram. "I hope to break the divide between nations through passion and love."
She said she would continue to live, train and go to school in the United States, while visiting China during summer breaks and for competitions.
A fluent Mandarin speaker with an authentic Beijing accent, Gu was born and raised in San Francisco. Her mother is a Beijing native and a skiing coach. In her daily life, Gu never hides the pride she has for her Chinese origin.
Gu learned to ski at the age of 3. She won her first national champion at the age of 9, and had pocketed nine golds in national champions by 14. She started to represent the United States in international competition in 2017 and has represented the U.S. at three World Cup stops, winning one gold and taking one silver.
On Instagram, she said it was an "incredibly tough" decision to join China's team, but she hopes her move would help forge a friendship between nations and inspire young girls to take up sports. (SD-Agencies)