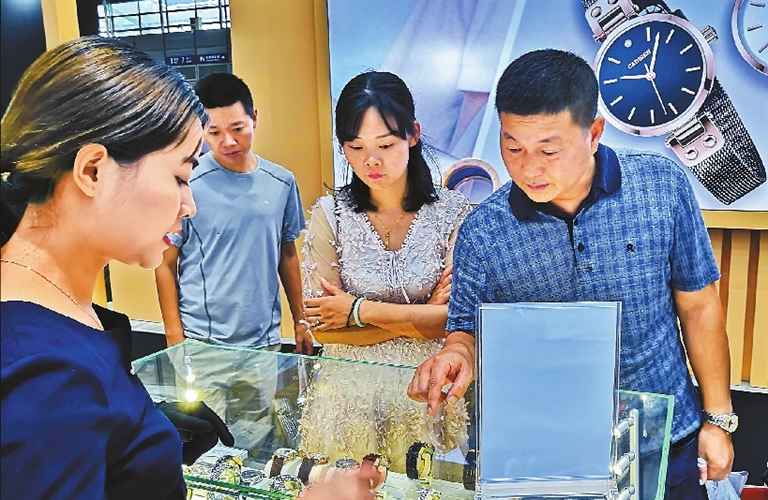 Zhang Yu
JeniZhang13@163.com
FACED with fierce competition in the timepiece market, major watchmakers in China are scrambling for more target consumers by enhancing brand reputation and introducing new products.
The 30th China Watch and Clock Fair (CWCF), which was held from Thursday to yesterday at Shenzhen Convention and Exhibition Center, attracted more than 450 watch and clock enterprises from more than 30 countries and regions around the world.
Fiyta, a leader in the domestic watch industry, presented a wide range of options to consumers this year, from collections that feature aerospace elements to Dunhuang frescoes and fighter planes to four-leaf clovers.
According to the Shenzhen-based company, the Dunhuang frescoes collection is inspired by Dunhuang murals and aims to reproduce the essence of Dunhuang culture by combining hand-made enameling technique with high-end precision watch-making technology.
During the exhibition, the company has also announced the addition of a new celebrity spokesperson, Chinese actor William Feng, to attract younger consumers for the brand.
Fiyta is not the only domestic watchmaker that has pushed to draw a wider spectrum of consumers. Looking around the exhibition area, many of its counterparts have showcased their latest products which also fuse fashion and technology.
Zhan Xiang, assistant president of Rarone, said nowadays those born after the 1990s are more concerned about a brand's added value and influence, design, and whether the watch conforms to their own dressing style over focusing on the function.
Geya, a Shenzhen-based watch company, said it is also trying to produce collections that specifically cater to young consumers and improve its online and offline sales channels.
Statistics from the China Horologe Association showed that China produced 650 million watches and 430 million clocks in 2018, accounting for 83 percent and 91 percent of the world's output, respectively.
According to the association, China is currently the world's largest watch and clock market, consuming nearly 100 million watches and 40 million clocks annually, of which those made in China account for about 76 percent.