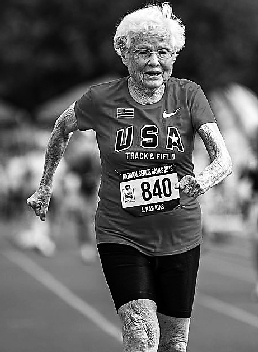 WHEN someone turns 100, you usually celebrate the mere fact that he or she has lived 10 beautiful decades of life. But at 103 years old, Julia Hawkins overachieves by hitting a special milestone — and the world is exploding with praise.
Last week, 103-year-old Julia "Hurricane" Hawkins broke the record for being the oldest woman to compete in the U.S. National Senior Games, a 20-sport competition for men and women over 50 and the largest multi-sport event in the world for seniors.
Aside from simply competing, Hawkins also won gold in the 50- and 100-meter races at the Games in Albuquerque, New Mexico. Not only did Hawkins break a record for being the oldest woman to participate in the National Senior Games, but the organizer tweeted that "Hurricane" is the oldest person to compete on an American track — ever!
The best part about all of this is Hawkins didn't get into running until she was 100. Before that, she was an avid biker, but following an elbow injury she sustained while cycling, she decided to give running a try. It turns out she was pretty damn good.
When Hawkins was 101, she set her first record in the centurion age group for the 100-meter dash, finishing with a time of 39.62 seconds. Though she finished about six seconds slower than her previous record, she told The New York Times that she was still happy about the result. "I'm two years older, remember?" she said.
The senior athlete admits she does very little training for her big meets and does mostly stretching and gardening. When she does train, Hawkins puts down markers in the street to show her where 50 yards (45.72 meters) and 100 yards is. "I don't practice much," she told The Times. "As I get older, I feel like I only have so many 100-yard dashes left, and I don't want to waste them in practice ... I'm just pretty good at moving around."
Whatever she's doing is clearly working because Hawkins has broken several world records for athletics. Despite all of her accomplishments, Hawkins is most proud of her children and husband, who passed away at 95. "They were the wonderful things in my life — and the grandchildren and the great-grandson," she said. "Those are things you just can't beat that. This other [the running] is just a little icing on the cake."
Still, she thinks it's important to stay active throughout life. "Keep yourself in good shape if you can," she said. "Have many passions. And look for magic moments."(SD-Agencies)