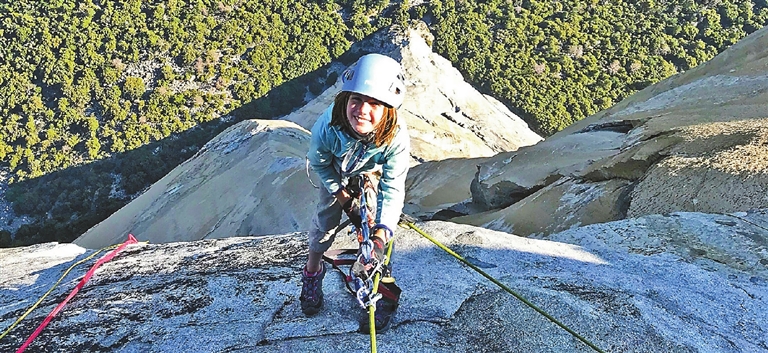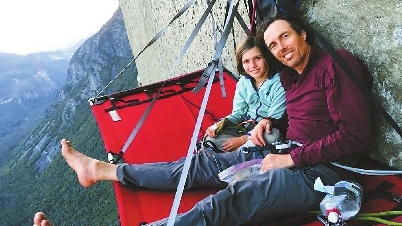 十岁女童征服酋长岩 创造攀石历史
Making it to the top of El Capitan is a daunting feat even for the most experienced climbers. American girl Selah Schneiter, 10, was practically born to do it.
The precocious climber made history mid-June when she became the youngest person on record to scale the famed, 3,000-foot (914-meter) vertical rock formation in California's Yosemite National Park, the United States.
Schneiter said the feeling after reaching the top of El Capitan's nose was "just really overwhelming" and "really emotional."
Schneiter has been climbing since before she could walk, because her parents, Mike and Joy, are also avid climbers. She is the oldest of four children.
Schneiter's record-setting ascent was all about the preparation to face a challenge that is potentially deadly. Last year, two experienced climbers fell to their death while scaling El Capitan.
Her father was by her side the entire way during her five-day climb into the history books, which took a year of planning. "Our motto was, 'How do you eat an elephant? Small bites,''' she said. "So we were just trying to do one day at a time, one move at a time, one pitch at a time."
"She talked about it really for a number of years,'' her father said. "We started kind of hatching a plan, like if we're going to do this, you need to do a series of steps, like goals to get there. I said, 'Well, if we can kinda get to that point where I feel like we're ready, we can give it a go.'"
Knowing that the climb is so demanding that it has forced experienced climbers to turn back, Joy Schneiter was mainly worried about the physical punishment her daughter would have to endure.
"I would say I was concerned for her endurance,'' she said. "She's so little. I know how much work it is to get up a big wall. It's not just going up 3,000 feet; it's hauling and jugging and sleeping and exposure to the elements, being baked in the sun; it's just a lot of energy-sapping experience ..."
Once Schneiter reached the top, she enjoyed a beautiful sunset. Then she had a food craving that any 10-year-old could understand. "Pizza," she said. "I was just really looking forward to it."
(SD-Agencies)