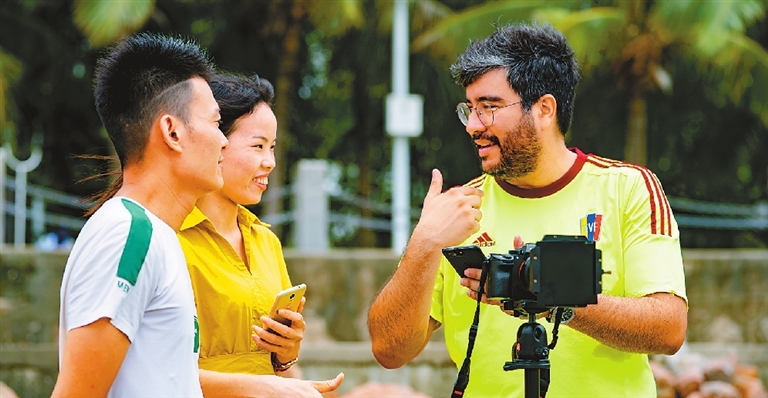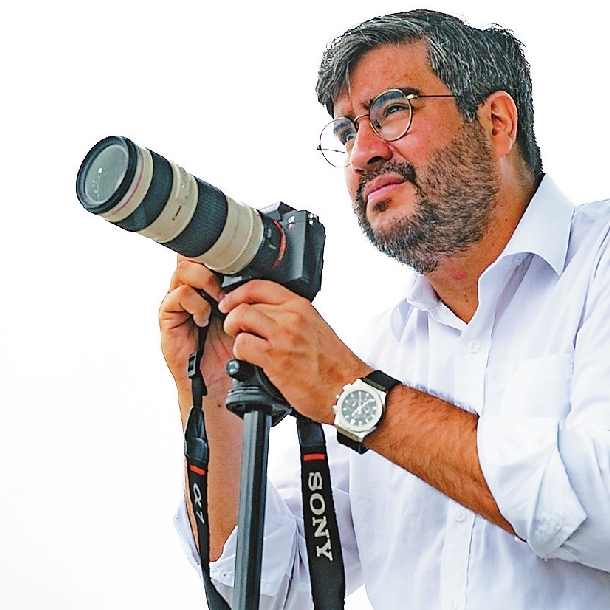 Chen Xiaochun
654789759@qq.com
STANDING on stage at the awards ceremony of the first "Expats Eye Shenzhen" Photo Contest, Jesus Alberto Salazar Cabrera from Venezuela felt more certain about what his brother told him three years ago: Shenzhen is a city full of opportunities.
Salazar won the "grand slam" of the contest by collecting the first prize, a second prize and a merit award with his three photos "A Resting Bird," "Colorful Shuiwei" and "A Fisherman," respectively.
"As a photographer, I felt this sense of adventure about going to a different country and trying my luck. Since arriving, I think that it is actually true that Shenzhen is a city full of opportunities. So I'm very happy living here," he said.
For Salazar, photography allows him to understand not only what is surrounding him, but also himself. "When I go outside every day to take a photo, it's not only an encounter with the city of Shenzhen, but also an encounter with myself," said Salazar.
For some time, Salazar would just go to parks in the morning, where he finds it fascinating how different people find ways to gather together. "You can see people doing exercises with a metal whip, which is completely strange to me, some doing tai chi, and others playing instruments. So for me, who has just arrived without knowing any Chinese, I come to know Shenzhen as a city that unites all parts of China," said the photographer.
Safe city
Salazar really appreciates the sense of security in China, especially in Shenzhen. "For me it was quite strange to be able to go out with my camera everywhere, to put it on a tripod at any place, at around 3 a.m. with no light and still feel safe," said Salazar.
"Maybe many people take it for granted, but not me. Being in Shenzhen allows me to improve one side of photography that I was not able to explore due to the security problem or fear of being on the street with a camera (back home)," confided Salazar.
The safe environment also allows him to get closer to people. "My overall impression is that Chinese people are really open to being photographed. That is something very surprising and it allows me again to explore one side of photography that I was not able to (before)."
At first, Salazar felt shy about asking Chinese people for permission to take their photos. "But after many positive experiences, I've found that this is a nice thing about Chinese culture and especially here in Shenzhen, that people are quite open to being photographed."
Lens on SZ
When some people talk about China, they only mention the tons of buildings and pollution. But when Salazar reached Shenzhen, he was impressed by the city full of parks and greenness.
"Your preconceived idea or stereotype is different to what you really see when you arrive. All these kinds of ideas that I am finding every single day in this city is what I try to portray through my lens," Salazar said.
One good example is his three award-winning photos, each of which tells a story about the different aspects of the city.
The first-prize winning photo "A Resting Bird" was taken in Shenzhen Bay Park when a bird rested on a fallen tree in the water. The photo portrays Shenzhen as a modern city that also has beautiful and peaceful spaces for contemplation.
However, this photo actually related to the photographer in a deeper and more personal way.
Having grown up with a fisherman grandfather, Salazar has always had a strong connection to the sea. Just one week after he arrived in Shenzhen, a friend took him to the Shenzhen Bay, which he fell in love with at first sight. Since then, he has taken photos of a specific tree there, planning to curate a series of images of the same tree over the years.
Unfortunately, when Typhoon Mangkhut wrecked the city last year, Salazar's tree fell and partially submerged into the water. That year was also not an easy one for Salazar as his father passed away.
"I felt that my photography was affected by such a difficult, emotional moment in my life. In those moments, I used photography as a way to understand myself and connect with myself. I felt better. For me, photography is like a medicine."
When he went to Shenzhen Bay again, seeing a bird resting atop the broken tree made him realize one important thing in life. "I felt that the bird on the tree was like a message for me, that everything will be OK in time. Even though there was a typhoon and things were broken, like my emotions at that moment, we can still find beauty in life," said Salazar.
"When I put the photo on social media, people from Venezuela and other countries asked where the photo was taken. I told them it's in Shenzhen, but it looks like it's in a lake on a mountain, far away from everywhere."
His second-prize winning photo "Colorful Shuiwei" is intended to display the innovative spirit of Shenzhen, an ever-changing city, where the old and the new mix in colorful and fun ways.
The colorful buildings in the photo are the Shuiwei Ningmeng Talents Apartments, the city's first urban renovation project of its kind. Twenty-nine buildings in the former urban village were leased to the Futian District Government, who has them transformed into well-furnished talent apartments.
"Regarding 'A Fisherman,' we have all heard the story of how Shenzhen changed from a small fishing village into a modern, well-known city in the world today. In this modern city, we can still find fishing ports, which are part of the roots of Shenzhen. We should embrace the new and be proud of the present and future of Shenzhen, but never forget where we came from," said Salazar.
Though Salazar agrees that equipment like nice cameras and lenses are important and allow photographers to go further in their craft, the more important thing is the photographer's connection with the place.
"I always tell my students that photography is more than the place you are going. It is more about how you understand the place. Photography is to portray what is in your mind. So to truly take a beautiful photo of Shenzhen, you need to like Shenzhen and understand Shenzhen. You need to try to portray it with your heart," said Salazar.
Former geologist
Engaged in photography for over 16 years, Salazar started out as a geologist and later did nature photographer. He graduated as a geological engineer and used to work for the national park system in Venezuela.
"I started photography basically as a geologist. I needed to go to different places to meet geology. One day I went to a really beautiful national park in Venezuela and I didn't have a camera. So my dad gave me the Minolta, which he had used to take photos in the 1970s," said Salazar.
Though the photos he took that day were not great, Salazar started to cultivate a passion for photography and has been working on it ever since.
Currently, he is working on a book called "Objectivo Geoparque," which is a compilation of images and stories collected during his 15-day stay at the UNESCO Geopark da Meseta Meridional in Portugal. The photographer wishes to reveal through the book that the territory and its geology is not something static, inert and inorganic, but something dynamic, reflecting encounters of humans with their environment.