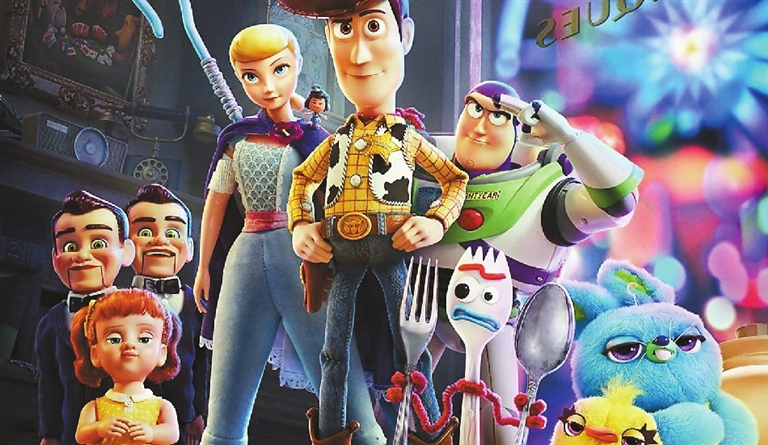 Voices: Tom Hanks, Tim Allen, Annie Potts, Tony Hale, Keegan-Michael Key, Jordan Peele, Madeleine McGraw Director: Josh Cooley
ANY fears that the further Disneyfication of Pixar would result in the diminution of the latter's foundational franchise are put to rest at once in "Toy Story 4," an entirely wonderful continuation of the series that 24 years ago launched an era in the annals of animation. It's been nearly a decade since "Toy Story 3" put a satisfying capper on what seemed likely to remain a trilogy, but the same level of wit, imagination and, yes, magic has been summoned to create yet another fully worthy sibling.
After its incredible early run, Pixar began showing some chinks in its armor in the early- to mid-2010s with some subpar sequels ("Cars 2" and "Cars 3," "Monsters University," "Finding Dory") and a couple of less-than-stellar one-shots ("Brave," "The Good Dinosaur"). Increased pressure from Disney, real or imagined, to keep the hits coming at a stepped-up rate was seen to foster a certain creative slippage. Yet so complete was the "Toy Story" trio that a follow-up seemed ill-advised creatively, even if desirable commercially.
The textures of a rainy night in the opening scene impress as even more expressively vivid than what Pixar has delivered in the past as we re-engage with some of the old gang. With their former charge Andy having left for college and their new one, Bonnie (voiced by Madeleine McGraw), preoccupied about starting kindergarten, Woody (voiced by Tom Hanks) and Buzz Lightyear (voiced by Tim Allen) are lying around the house without much to do. At this point in his life, however, Woody is philosophical about being ignored, figuring that when something new turns up, he'll be ready for it.
But even the lowliest, dirtiest and most ignoble doll or toy would be insulted by what, at her school orientation day, little Bonnie publicly embraces as her new best friend and companion: a plastic fork (voiced by Tony Hale), one with lopsided eyes, a waxy mouth and pipe-cleaner arms. In other words, it's a piece of trash and, better yet, it knows it; "I'm a fork!," it insists, adding that it doesn't even comprehend what a toy is.
Before school proper begins, however, Bonnie (with Forky and Woody in tow) is taken by her parents on a road trip to a pristine old Western town called Grand Basin, where a big carnival is underway. There's also a large secondhand store stuffed with yesteryear items, including a long-neglected talking string-pull doll named Gabby Gabby (voiced by Christina Hendricks) and four extremely creepy Howdy Doody look-alikes.
In the context of the "Toy Story" world, "secondhand" also implies the possibility of a second chance (as well as the name of the antique store), which is exactly where the new film really takes off. A character so secondary in the first two installments that she was excised from part three, the young lady (and former adornment to a lamp base) named Bo Peep (voice by Annie Potts) has been fleshed out and made so ingratiating and self-confident that she now emerges as something close to the heart of the film.
Co-scripters Andrew Stanton, who co-wrote the first two "Toy Story" features as well as five other top Pixar titles, and first-timer Stephany Folsom have taken a less-than-exciting porcelain character and given her a plausible interim backstory of solitary adventure and self-discovery so that she can emerge as an immensely capable shepherdess who's come into her own and makes a perfect match for Woody. Their lively banter and mutual understanding provide a romantic backbone for the story as well as a genuine rooting interest in a couple that seems better matched than the vast majority of those to have turned up in live-action films of late.
This would not be a Pixar film without innumerable mad dashes, close calls, frantic snatches of victory from the jaws of defeat and assorted other wild physical predicaments that call on the ingenuity and, perhaps more so, the dexterity of its persistently appealing set of characters. It's not so common in films these days that you actually enjoy being in the company of the people onscreen, and if it takes an animated picture to deliver them up, so be it.
The movie is now being screened in Shenzhen. (SD-Agencies)