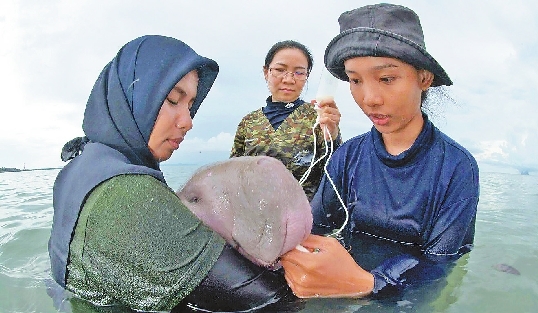 THAILAND'S marine authorities will live-stream the life of a 7-month-old dugong named Mariam after she was separated from her mother and beached on a southern island two months ago.
Mariam, who is under the care of a team of volunteers and veterinary surgeons in Koh Libong, off Thailand's southwest coast in Trang province, has become an Internet sensation in recent weeks after the Department of Marine and Coastal Resources began posting videos and photos of her on Facebook.
A government official told local media Mariam was responding positively to the care, displaying baby-like behaviors such as falling asleep after being fed milk, or swimming close to an orange-colored canoe as if it were her mother.
Dugong is listed as a vulnerable species. Thai authorities have paid particular attention to safeguarding young dugongs, such as Mariam, in their natural habitat of the Andaman Sea.
It was reported that Mariam had beached during the night, when the animal could not tell when or how far the water had subsided.
Carers have taken extra precautions to preventing Mariam from swimming too far from the shore. The young dugong does not know how to find its main food source, seagrass, and without its mother, the animal is especially at risk of being hit by fishing boats and has little protection from predators.
Thailand's Andaman Sea is one of the most diverse marine resources in Southeast Asia. Kongkiat Kittiwatanawong, director of Phuket Marine Biological Center and one of Mariam's carers, this week posted on Facebook that a volunteer had been hurt by stingrays while taking care of the dugong.
Thais have donated money and other equipment to the center to help protect the sea mammal. The Department of Marine and Coastal Resources' chief Jatuporn Buruspat said there were only 200 dugongs left in Thai waters.
Authorities expect to take care of Mariam for at least six months before it is returned to the ocean. They will start live-streaming her care from early July.  (SD-Agencies)