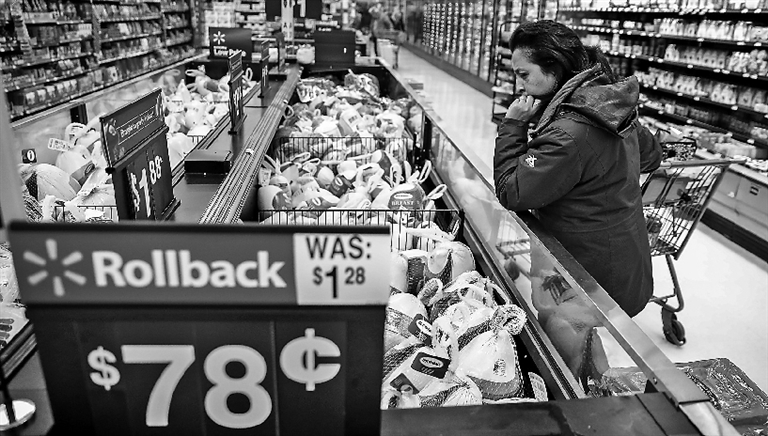 U.S. consumer spending increased moderately in May and prices rose slightly, pointing to slowing economic growth and benign inflation pressures, which could give the Federal Reserve ammunition to cut interest rates this month.
The report from the U.S. Commerce Department on Friday came just a week after the Fed signaled it could ease monetary policy as early as July, citing low inflation as well as growing risks to the economy from trade tensions. Inflation has undershot the U.S. central bank's 2 percent target this year.
"Below-target inflation is a concern for the Fed, but not the primary reason they are leaning toward cutting interest rates," said Ryan Sweet, a senior economist at Moody's Analytics in West Chester, Pennsylvania. "The Fed has an easing bias because of growth concerns, and low inflation has only helped lower the bar for even further rate cuts."
Consumer spending, which accounts for more than two-thirds of U.S. economic activity, rose 0.4 percent as households boosted purchases of motor vehicles and spent more at restaurants and on hotel accommodations. Data for April was revised up to show consumer spending advancing 0.6 percent instead of the previously reported 0.3 percent gain.
Consumer prices as measured by the personal consumption expenditures (PCE) price index rose 0.2 percent last month as a 0.3 percent rebound in food prices was tempered by a 0.6 percent decline in the cost of gasoline and other energy goods. The PCE price index increased 0.3 percent in April.
The core PCE index is the Fed's preferred inflation measure. It hit the central bank's 2 percent target in March 2018 for the first time since April 2012. The Fed last week downgraded its inflation projection for 2019 to 1.5 percent from the 1.8 percent projected in March.
Fed Chairman Jerome Powell at his press conference did not refer to weak inflation as "transient."
The low inflation projections were supported by a survey Friday from the University of Michigan showing consumers last month expected slower price increases over the next 12 months compared to May. Consumers' inflation expectations over a five-year period fell to 2.3 percent from 2.6 percent last month.
The tepid real consumer spending gain added to weak May reports on manufacturing, trade, job growth and the housing market in suggesting a deceleration in economic activity.
The manufacturing sector's deepening troubles were underscored by a third report Friday showing a measure of factory activity in the Midwest tumbled into contraction territory last month for the first time since January 2017.(SD-Agencies)