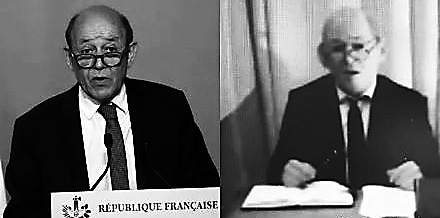 IDENTITY theft is said to be the world's fastest-growing crime, but in sheer chutzpah there can be few cons to match the story of the fake French minister from Ukraine and his silicon mask.
For two years from late 2015, an individual or individuals impersonating France's defense minister, Jean-Yves Le Drian, scammed an estimated €80 million (US$90 million) from wealthy victims including the Aga Khan and the owner of Chateau Margaux wines.
The hustle required targets to believe they were being contacted by Le Drian, who then requested financial help to pay ransoms for journalists being held hostage by Islamists in the Middle East.
The con normally started with a phone call from someone claiming to be a member of Le Drian's inner circle.
The apparent go-between would then arrange a video conference call with the "minister" himself.
Then in meetings arranged on a muzzy Skype connection, a fraudster wore a custom-made Le Drian mask and sat in a copy of Le Drian's ministerial office — complete with French flags.
Since France officially does not pay ransoms to hostage takers, the fake Le Drian assured payments could not be traced.
Many of those approached smelled a rat and rang off.
But, some didn't — enough for it to become one of the most outlandish and successful rackets of recent times.
"Everything about the story is exceptional," said Delphine Meillet, lawyer to Le Drian who is now France's foreign minister.
"They dared to take on the identity of a serving French minister. Then they called up CEOs and heads of government round the world and asked for vast amounts of money. The nerve of it!"
Why Jean-Yves Le Drian was chosen has not been fully explained.
Presumably the fact that as defense minister he might be in charge of ransom demands was part if it, but another factor may have been his relative obscurity.
The case is now under judicial investigation in France, with suspicions centering on a convicted French-Israeli con-artist called Gilbert Chikli.
He is currently in jail in Paris following extradition from Ukraine and faces charges of organized fraud and usurpation of identity.(SD-Agencies)
In February, three French-Israeli citizens were arrested near Tel Aviv.
For now the calls have stopped.
But the suspicion has been raised that, far from there being a single con-artist, maybe there are several: a whole gang schooled in the art of being Jean-Yves Le Drian.
-Agencies)