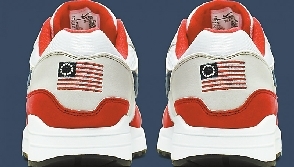 IN a thematic red, white and blue colorway, Nike's Air Max 1 Quick Strike Fourth of July sneakers were set to be released Monday, just in time for the U.S. national holiday. But as of Tuesday that had all changed.
The sportswear behemoth canceled distribution of the limited-edition shoe, deciding against the prominent design element featured on the back of the shoe: the 13-star American flag, also known as the Betsy Ross flag, which is most directly associated with the American Revolutionary era.
The company said in a statement: "We regularly make business decisions to withdraw initiatives, products, and services. Nike made the decision to halt distribution of the Air Max 1 Quick Strike Fourth of July shoe based on concerns that it could unintentionally offend and detract from the nation's patriotic holiday."
Photos of the special Air Max 1s first emerged at the end of June. And as they began circulating on social media, the sneakers began getting negative feedback. Comments on a post on Sneaker New's Instagram account suggested the Betsy Ross flag wasn't necessarily a celebratory patriotic symbol, but rather one that calls to mind an ugly period of American history.
The New York Times and the Wall Street Journal reported that Colin Kaepernick, the activist and former San Francisco 49ers quarterback, privately expressed concerns over the use of the 13-star flag, which dates back to times of slavery and has been reappropriated by groups that laud a time before the establishment of the federal government, according to CNBC, and, at times, has been linked to white supremacists. Following his intervention, Nike reportedly decided to pull the shoe altogether.
Even as the history that ties Ross to the original flag's design remains the stuff of legend, not explicitly fact, the most recent use of it is what's currently driving the backlash to the Nike sneaker.
In a report by Rolling Stone, a research analyst for the Southern Poverty Law Center said that symbols such as the 13-star flag and Confederate flag have historically been adopted by hate groups "under the guise of 'heritage.'" Specifically, the use suggests "a time when all nonwhite people were viewed as subhuman and un-American."
Despite Nike's call to remove the Air Max 1 Quick Strike Fourth of July sneakers from all retailer shelves, the shoes were spotted on the resale site StockX, selling for a whopping US$2,500. Scott Cutler, the company's CEO, took to Twitter to announce they would be removed from the site, as it "does not align with our value system."
(SD-Agencies)