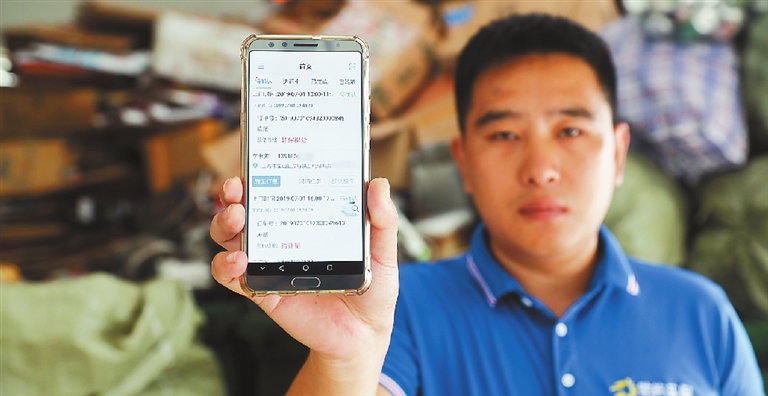 A FEW years ago, collecting garbage was a bleak business for everyone involved. However, since trash sorting has become an important practice in many parts of China, it is now a more promising sector.
Li Wanhai is a garbage collector for AiFenLei, a WeChat mini-program engaged in online garbage collecting, sorting and recycling services.
Every day, the 57-year-old and his three colleagues can receive around 40 online orders and collect between 600 kilograms and one metric ton of waste from five large residential communities in Beijing's Changping District.
"The job is flexible and meaningful," said Li, who earns around 7,000 yuan (US$1,000) per month.
AiFenLei employs 60 collectors, 60 supervisors, 30 sorters and 30 publicity officers, but when Li joined the company a year ago, after quitting his job as a driver for a ride-hailing company, there were just four collectors.
The ubiquity of smartphones creates great potential for incorporating waste sorting in the online world, and AiFenLei is one of a growing number of companies that have turned to online garbage disposal solutions.
"We are hiring more people involved in the industry to meet the growing demand," said Xu Yuanhong, the company's general manager.
Recently, China has been pushing hard to cultivate the garbage-sorting habit. According to the government, trash-sorting systems will be built in 46 major cities by the end of next year, and all cities at the prefecture level and above should build such systems by 2025.
Moreover, stricter garbage-sorting rules have yielded more job opportunities, turning trash into cash.
Qiao Junsuo, a garbage truck driver in Beijing's Chaoyang District, is happy that he decided to quit his previous job — he was a taxi driver for 10 years — and is content with his monthly salary of 4,300 yuan, along with social insurance payments and a housing allowance.
"I'm glad to see that more and more people are aware of the importance of waste sorting, and I hope the authorities pay more attention to recycling. The booming industry means that I can earn more to raise my three kids," the 40-year-old said.
Qiao is one of about 80 garbage truck drivers in Chaoyang and usually drives to an incinerator in the suburbs once or twice a day, carrying 15 tons of waste each time.
According to Chinese online recruitment agency Liepin.com, many jobs related to garbage sorting offer respectable renumeration, much higher than the country's average income, and more new jobs will soon be generated in the area.
In Beijing, for example, the average monthly salary per capita was about 7,855 yuan in 2018, while on Liepin.com, the average monthly income for jobs related to garbage sorting in places like Beijing, Shanghai and Zhejiang was 16,000 yuan per capita in the first half of 2019.
Across the country, jobs related to garbage sorting have average annual incomes of between 70,000 yuan and 200,000 yuan, and they are in dire need of talents, according to Ba Ran with Liepin.com.
Beijing generates nearly 26,000 tons of household garbage every day, or around 1.1 kg per person, and the amount is rising, Sun Xinjun, head of the Beijing Municipal Commission of Urban Management, said on a TV program recently. "If garbage collection is not done in a timely manner, it will have a huge impact on residents' daily lives," Sun said.
Shanghai's residents produced more than 9 million tons of household garbage last year, which put a lot of pressure on the environment and the city's sustainable development.
Many residents have turned to online waste collectors for help. According to the State broadcaster China Central Television, a waste collector in Shanghai can earn more than 10,000 yuan a month, depending on how much trash they collect.
In 2000, China began piloting garbage sorting in eight cities, including Beijing, Shanghai, Guangzhou and Shenzhen, by installing waste bins on the streets. However, there is a still long way to go, even after nearly two decades.
According to a survey conducted by the Policy Research Center for Environment and Economy at the Ministry of Ecology and Environment, more than 92 percent of the over 13,000 interviewees recognized the importance of garbage sorting for environmental protection, but only 30 percent thought they were doing "very well" or "relatively well" at disposing of household waste correctly.
Wu Shunze, director of the research center, said the government should take concrete measures and produce policies to promote garbage sorting, while the rising volume of garbage means trash-sorting businesses need more professionals, and it could take generations to form good habits. (Xinhua)