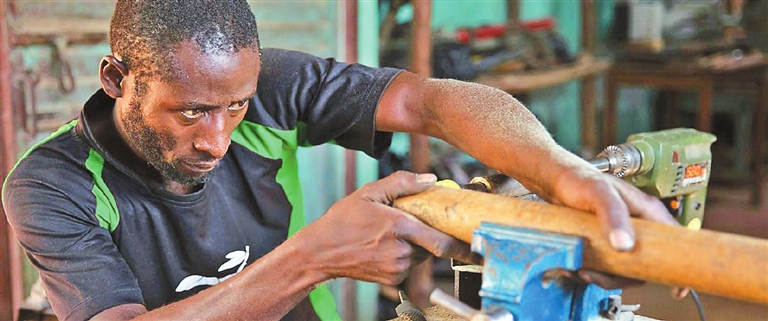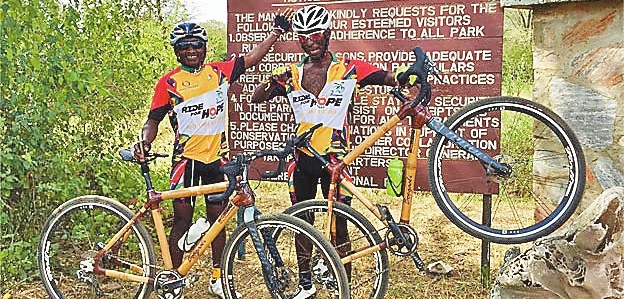 乌干达小伙子造竹子自行车,环保又拉风
In one of Uganda's major bamboo forests in the southwestern district of Kabale, a piece of bamboo is picked out, cut down and taken to Noordin Kasoma's workshop for treatment against insects.
After a process that includes drying in the sun, cutting to the desired length and assembling over a few days, the plant is transformed into the frame of a bicycle.
The use of bamboo is not as strange as it might sound to the cycling world. For Noordin Kasoma, a 24-year-old entrepreneur in Uganda, the idea of handcrafted bamboo bicycle frames was born out of his passion for cycling as well as his dream to make it more environmentally friendly.
In order to focus on his passion, Kasoma said goodbye to his job as an electrician and devoted himself full time to cycling. Through the journey, he met American bicycle frame designer and manufacturer Craig Calfee and learned how to make bikes.
In 2013, Kasoma founded the company Boogaali Bicycles Limited, specializing in making bike frames out of bamboo.
Kasoma said he chose to make bike frames with bamboo because the plant is strong, light, durable and flexible, which allows it to absorb shock, especially when people are riding off-road.
What's more, he said, bamboo is abundant in the African country, grows fast and can be sustainably harvested.
To ensure a sustainable supply of bamboo, he has also planted a bamboo forest in his home town Nakifuma.
Besides the 100-percent handmade frames, depending on clients' needs and specifications, bicycles from Kasoma's workshop come with a special Ugandan spin — the joints of the frames are firmed up with bark cloth, a traditional clothing material extracted from the inner bark of the Ficus natalensis tree.
In a month, Kasoma, with the help of his colleague Mike Kisegerwa, can make around five bicycle frames. The products are subjected to several tests before being shipped to clients, mainly in Europe and the United States.
The production cost is around US$350 each. As bamboo bike frames are becoming more popular worldwide, Kasoma plans to expand his business and pass on his skills.
(Xinhua)