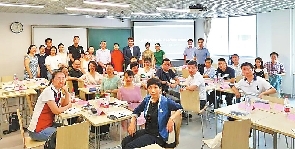 南科大设立医务人员交流培训基地
Matthew Jellick
matthewj@sustech.edu.cn
Southern University of Science and Technology (SUSTech) continues to grow at exceptional speeds, creating new and exciting learning platforms that help define the community of learners, preparing not only them, but the greater Shenzhen area, as we move forward into a complex and exciting world of innovation and entrepreneurship. One such opportunity is the creation of the SUSTech Medical School, which fulfills a growing need for advancements in this specialized field.
Working in partnership with local hospitals, the university is training top-level doctors as teachers in a variety of interdisciplinary studies as they apply to medicine, teaching students about the specifics of their individualized fields. Yet teaching itself is a specialty, and an art that is constantly being refined with updated and innovative practices. From implementing content-based instruction to developing learning outcomes, a pedagogy and methodology that supports strong classroom practices is something that empowers both teachers and students.
Working with a team of 25 doctors over the course of an intensive summer program, SUSTech is equipping them with the fundamentals of meaningful and measurable teaching tools that can be implemented in their instruction.
Focusing on student objectives and teacher demonstrability, these Shenzhen doctors are able to increase their comfortability inside the classroom with the same level of expertise they have in operating rooms. Each are professional in their approach, mirroring the same intensity they bring to the laboratory and clinic and showcasing their ability to share their expansive knowledge with incoming medical school students.
A leader in global research, SUSTech understands that the ability to transmit knowledge to students through effective teaching is likewise a fundamental aspect in the arena of academia. It is through innovative trainings such as this that teaching sustainability is recognized, acting as a multiplier for not only students, but teachers as well.
Good pedagogical and methodological approaches can shape the learner's appreciation for the materials they are being taught, and in turn, give credence to the knowledge being presented. With the cooperation of SUSTech and these Shenzhen doctors, the future of learning looks bright, paving a path forward as the university and the city continue to showcase leadership concepts.